Art-estate "Veretyevo", Moscow region: description, history and interesting facts
Now many objects left over from the Soviet era are being transformed into something new, more modern and creative. The art-estate "Veretyevo", created on the territory of the former summer camp for the pioneers of the Taldom region, outdid all other modernizing projects. Its organizers erected modern chalets in the territory of the original Russian style, opened a spa salon, a shooting gallery, created a paintball ground, but at the same time saved much of what was once in a real camp. In confirmation of this, guests at the entrance to the central building are greeted by a sculpture of a mountain player in a pioneer tie. Art-estate "Veret'evo" works in winter and summer. Here, among the birches and Christmas trees, you can just take a break from urban problems, go fishing, sunbathing, or celebrate a wedding or have an unforgettable corporate event.We offer to make a virtual walk through the art-estate, look into its somewhat unusual numbers and listen to what people who have already had a rest here think of.
Location
This organization, which is a country club hotel according to the range of services provided, has a simple address: Art-estate "Veretyevo", der. Veretyevo, Taldomsky district, Moscow region. It is located, as noted above, on the territory of a small pioneer camp, which began its work in the postwar years, and before that there was a hospital here. Veret'evo village is more than small, only 9 people live here. It stretches near the forest on the bank of the river Dubna. To the city of Taldom - the nearest large settlement, from here 17 km, and to Moscow 110 km. Within a radius of 2-3 km from the art-estate "Veretyevo" lie villages, in which there are 1-3 inhabitants. To a relatively large village Starikovo, where 31 people live, is about 3 km. Such desertion provides guests "Veret'evo" absolutely calm rest in harmony with their native nature.
How to get there
Art-estate "Veret'evo" is located in a place to which it is more convenient to go by car.From Moscow, follow the A104 (Dmitrovskoye) to Taldom, then follow the regional highway to the village of Yudino, from which 10 km to Veretyevo will remain.
You can get to the manor and public transport. To do this, from Savelovsky railway station to come to Taldom. Travel time is almost 2 hours. Next, take a taxi to the manor. Will have to go no more than a quarter of an hour, the fare - from 400 rubles.
Art-estate "Veret'evo": description
Many people believe that this place is endowed with special power, because here in just a couple of days composure is restored, all problems are forgotten, and the body is charged with energy. Art Manor covers an area of ​​15 hectares. The whole territory is decorated in the spirit of modernity, but with the unique flavor of the past. The owners of the manor have left all the sculptures in the same places. Here you can see the mountainist, athletes, preparing their skis, sister Alenushka, yearning on the bank of the river for brother Ivanushka. Next to these children's characters, banners and posters are set up with modern aphorisms that bring a positive attitude to the rest. Art-estate "Veret'evo" was built on the bank of the river Dubna.There is a small pier, gazebos were built, barbecues were installed, campfire places were built. The whole territory is fenced. For motorists there is parking available, and under the shade of Christmas trees and birch trees there are 2 two-storey buildings, a club and 3 cottages. In total, the hotel provides 45 rooms for guests to stay. All of them are so different that they require a separate description.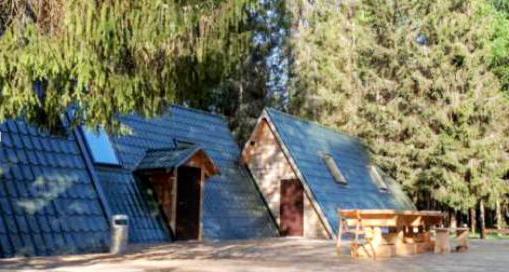 Enclosures
As a country hotel, the art-estate "Veretyevo" can offer its guests accommodation in standard two-story buildings. One of them is called "House of Friendship." In this small wooden building there are only 5 rooms with minimalist amenities. They are designed to stay 2 people. Here there are only the most necessary household items - beds, a mirror, a dresser, a table. The theme of retro is supported, thanks to accessories such as busts of Lenin, Dzerzhinsky, an old radio. Each room has a veranda and BBQ. Price - from 2500 to 2750 rubles per day. from the lodger.
The second building is called "House counselors." It has 11 rooms. Double equipment - a set of furniture, a radiator, a modern TV, an electric kettle, a hygiene room with a shower and a toilet. Price 2350 rubles per day. Single rooms without amenities, with mansard walls, ranging from 5 square meters.Price - 1530 rubles per day.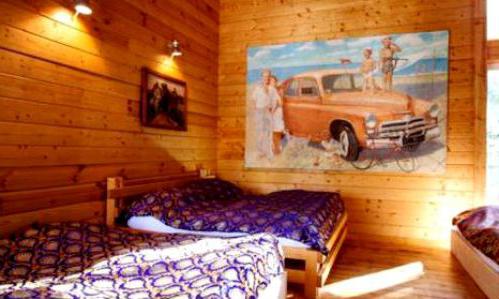 Cottages
Veretyevo is an art-manor in the Taldom district, in which you can choose accommodation for every taste. For those who want to live in a cozy quiet house surrounded by Christmas trees, modern cottages are offered. Three of them are called "Ashkis". They are one-story buildings with a sloping metal roof. The walls in them are mansard, made of wood. Stylization in the rooms is also with a bias in retro, only the theme here is a rustic life. It is supported by an old wooden wheel, furniture, antique kitchen utensils. One "Ashka" is one-room, two others - two-room. Price - 2500 per person per night.
"Taiga houses"
Not only to see, but also to feel how our ancestors lived, gives its guests the opportunity to the art-estate "Veretyevo". Russia is a country where before in every hut there was a Russian stove with a stove bench. Beside her folded logs. A table with a bench, a chest and a cupboard with the owner's trifles were placed near the wall. All this awaits guests who have chosen to live in one of two cottages, called "Taiga houses." They are log cabins with low ceilings, with a terrace and with all amenities. The beds in the rooms are made in the form of a bed on the most real furnace that you need to heat in the winter.Price - 3700 per person per day.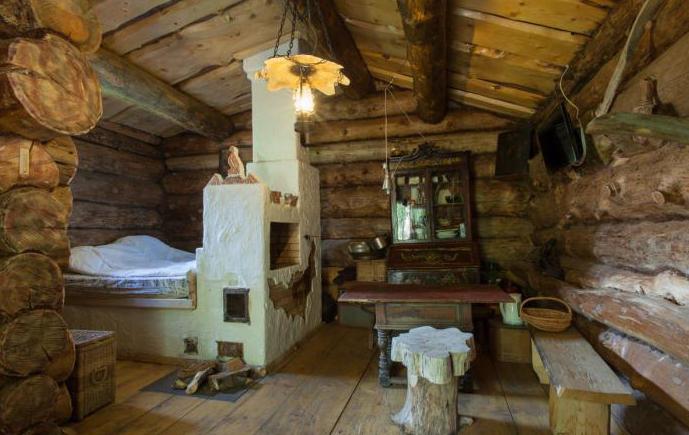 "House of Pioneers"
This body is so unique that you need to tell about it separately. On its first floor there are bright, spacious wooden rooms of economy class with no amenities (they are located on the floor). The price is 1500 rubles per day. from the lodger.
The rooms on the second floor are what the art-estate "Veretyevo" is famous for and proud of. Guest reviews are full of delight from the unusual, unexpected and creative atmosphere prevailing in them. Each room bears the name of the designer, who created a special style and atmosphere here.
Olga Soldatova's room will appeal to those who love bright red tones. This color here prevails in every piece of furniture, starting with the walls and ending with a lamp shade.
Evgeny Ass's room is distinguished by the absence of even a hint of luxury. Everything here, including the walls, ceilings and window sills, is made of light unpainted wood.
The room of Leonid Parfenov will transfer his guests about 200 years ago to the Russian hinterland. Here, all the furnishings are new, but made by the old models. Particularly impressive is the baby cradle in the form of a box, suspended from a rope on a wooden crossbar.
The art-estate "Veretyevo" has in its infrastructure a very unusual room with a wall painting of the walls, the ceiling and the floor that is controversial with respect to the creative. This is the room of Andrei Bilzho. In general, its design is made in the style of a cozy bourgeois corner with paintings on the walls, lampshades with fringe, statuettes on the shelves.
Igor Gurovich's room will give its guests a sea of ​​positive and plenty of cheerful colors - blue, red, green, yellow, crimson and others.
Mikhail Kusnirovich's room will be appreciated by those who prefer to modern art design a relaxed atmosphere that reigned in the homes of the intelligentsia of the early 20th century. From the attributes in the room - an old piano, Viennese chairs, a round table under a white tablecloth.
The room of Inna Kalenskaya, executed in dark strict colors, will suit lovers of conservatism. The amenities (shower and washbasin) and the bedroom area are combined into one space.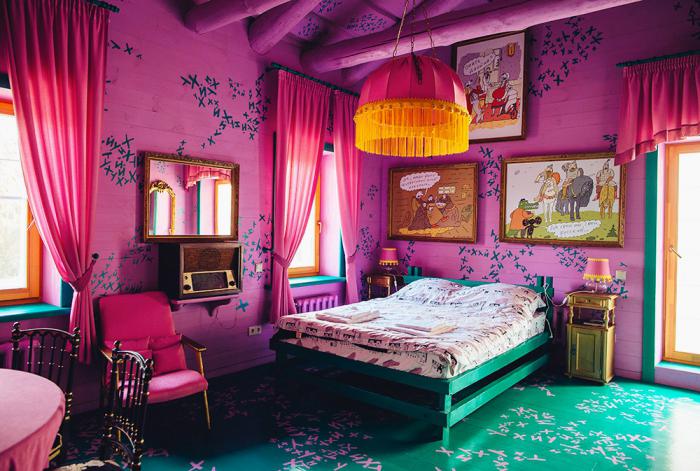 The room of Vadim Frolov will transfer guests to India. Here in the design used Indian motifs, including tapestries on the walls, statues, bedspreads, made of beads.
Each room on the second floor is equipped with amenities (shower, toilet). Price - from 2500 to 6000 rubles per day. for one guest.
"Club" and "SPA"
Not only the classic outdoor recreation gives guests the art-estate "Veretyevo". People of art — writers, artists, and musicians — often come to Veretyevo. The club is ideal for meeting with them and holding hearty creative evenings. Here on the first floor there is a cozy living-dining room, the interior of which is designed in a rustic style, and on the second floor there are 5 rooms for living. They have wooden beveled walls (not attic), wooden floors and ceilings. The design is simple, but pleasant, amenities on the floor. Price from 2500 rubles per day. from the lodger.
If the guests of the manor-house wish not only to relax, but also to work in nature, the "Spasalka" building is at their service. There is a spa on the ground floor, next to it there is a spacious hall with panoramic windows, where it is convenient to hold business meetings. There are also two deluxe rooms in this building. Price - from 3000 rubles per person per day. If desired, and by agreement with the administration, you can rent the whole house.
Food
The order of residence art-estate "Veret'evo" regulates free, without any strict rules, and at the same time, there is not everyone who likes the order of the dining room.Here, in strictly reserved hours, tables are served for breakfast, lunch and dinner. There is one menu for everyone, there is no choice. Meals are not included in the room rate. Those who prefer to cook for themselves, can use the shared kitchen. In addition, it is possible to buy meat on the eco-farm and fry barbecue on their own. For this purpose, many barbecues have been installed on the estate.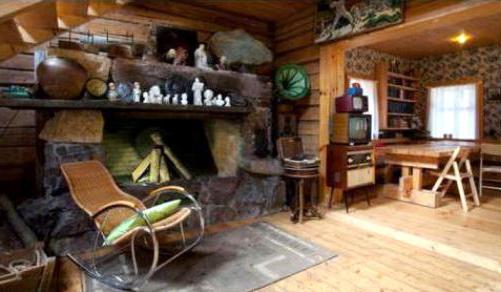 Entertainment
Art-estate "Veret'evo" is a place where everyone can spend interesting time. For sports fans, there is a volleyball court, a small football field, a paintball range (1500 rubles for a participant). Those who are keen on fishing can not only fish in the river, but also cook it themselves on the grill. In the summer, an estate is rented bicycles and boats, and sun loungers are provided free of charge. In winter, an ice rink is poured on the territory, and ski trails are set up in the forest. At any time of the year, guests can relax in the Russian sauna, from which a water slide leads directly into the river. There are in Veretyevo and secluded corners for those who prefer solitude.Lovers of silence need only delve a little into the forest, where creative shops and gazebos are installed.
Additional Information
The art-estate "Veretyevo" (Moscow region) is happy for both adults and children of any age, but parents should take into account that there is no special food for their kids here, just as there are no shops nearby where you can buy it. Those who come here with children should take everything they need with them.
There are certain restrictions regarding accommodation with animals in the estate, but for an additional fee they are allowed to rent a room in detached cottages.
- Check in here is carried out after 14-00.
- Check out, as a rule, until 12-00.
Weddings are often held at the manor, for which there are their own registry office and an original decorated banquet hall.
Reviews
A sufficiently high rating of 8.5 points out of 10 has an art-estate "Veretyevo". Reviews about the rest here, however, are ambiguous. Pluses celebrated by all guests:
- interesting non-standard design of many rooms, design of the territory;
- good internet in the rooms and on the territory;
- beautiful nature (forest, river);
- organic products from which they prepare meals in the dining room.
Also among the advantages of the estate are:
- the opportunity to go fishing;
- barbecues and gazebos in the territory in free availability;
- friendly staff.
Disadvantages indicated by all guests:
- there is no choice of dishes in the menu;
- food is strictly on the clock, in the evening the dining room closes and there is no place to take drinking water;
- high prices.
In addition, individual guests report the following shortcomings:
- no soundproofing in the rooms;
- no air conditioning, even in deluxe, no mosquito nets on the windows;
- dirty water flowing from taps;
- absence of drinking water coolers on the territory;
- dishes are tasty, but small and expensive;
- shops where you can buy food, very far;
- for children, except for a small playground, there is nothing;
- there is no electronic booking (rooms, boats, sports equipment), which sometimes causes misunderstandings;
- the estate does not provide payment by bank cards.
Related news
Art-estate Veretyevo, Moscow region: description, history and interesting facts image, picture, imagery