Chanahi. Recipe with a description
Chanahi is a commonly known Georgian dish that is a lamb stew in a clay pot with vegetables. Ingredients, in principle, are readily available. For the chanakhi recipe provides for the mandatory presence of lamb, tomatoes, potatoes, eggplant and onions, which are located in layers of the pot.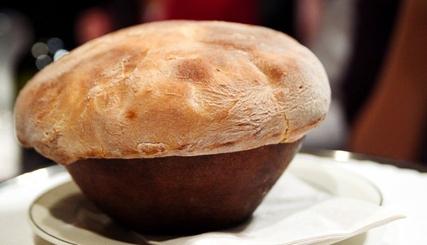 Meat and vegetables (the whole set) should be equally divided. Spices are ordinary, not very Georgian: parsley, cilantro, basil, black and certainly red pepper - this is the soup. The recipe for cooking chanahi is not the only one. Similar thick soups with a similar set of ingredients are in Azerbaijan, Armenia, Turkey and other places, even remote ones. No worries are required during cooking: you can no longer mix and add something when the dish is in the oven - the steam should not come out of a tightly closed pot lid with foil or dough. How to cook chanakhi to the time of quenching in the oven, in the two proposed recipes told in great detail. Do not let out the desire to taste this delicious dish!
Chanahi. First recipe
Will need: four hundred grams of lamb, five medium potatoes, a large eggplant, two onions, five fleshy middle-sized tomatoes, a glass of thick tomato juice, two tablespoons of melted butter, pepper, parsley, salt, hot pepper.
How to cook it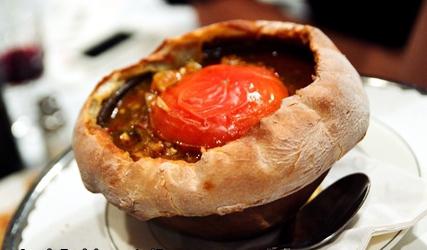 Chop coarsely mutton, sprinkle with pepper and salt. Peel the potatoes and divide into quarters, chop the onion into rings non-finely. Cut the washed eggplant across several times along the entire length, remove the tail, put it in the cuts and leave for about ten minutes for the bitterness to disappear, then rinse and put in half a spoonful of melted butter. In a pot lay in layers in this sequence: meat, potatoes, eggplant, onion, salt, whole tomatoes, parsley. Top with hot peppers. Pour tomato juice. Cover with salt dough: two hundred grams of flour and salt, half a glass of water (you can add spices such as cloves or red, white and black pepper peas - the texture of the dough will decorate the pot, and of the aroma will arrive). Put in a cold oven, turn it on and heat to one hundred eighty degrees. Stew until tender. Do not mix.
Chanahi.Second recipe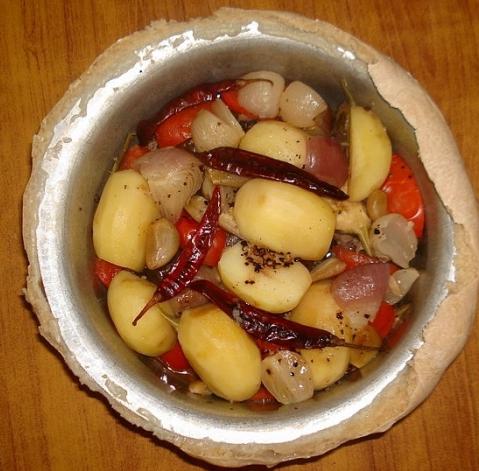 Will need: a pound of lamb brisket, a glass of dry red wine, adjika, 50 grams of fat tail fat of lamb, two onions, three potatoes, three or four small but fleshy tomatoes, eggplant, bell pepper, hot pepper - pod, basil, cilantro, parsley, pepper red and black, garlic, salt, vegetable oil.
How to cook it

Mutton cut into portions, pickle. For the marinade, mix with wine three chopped garlic cloves, onion sliced ​​into half rings, two or three small spoons of spicy adjika, salt, red pepper (a lot) and half a teaspoon of black pepper. If the lamb is not young, you need to pickle it for a long time, at least a day. Then dry the meat with a napkin and fry over high heat in vegetable oil for two or three minutes on both sides. Add the onion (and marinated too), fry. Put two tablespoons of tomato paste. Fry for a minute or two. Pour boiling water or boiling broth and stew until half cooked over low heat. If the lamb is young, you can skip the stewing item. If the meat is not only old, but also lean, add a little chopped fat tail.While it is stewing, peel and chop the large potatoes. Finely chop the rest rump, basil, garlic. Release eggplant from the tail, incise across, salt firmly in the cuts and leave to remove bitterness for ten minutes, then rinse with water. Now it is necessary to stuff it with a mixture of fat tail, basil and garlic. Lay in a pot in layers in this sequence: meat with onions, greens, potatoes, salt-pepper, greens, eggplant, greens, sweet peppers, coarsely chopped, greens, whole tomatoes, greens, salt-pepper. Top put a whole pod of hot pepper. Seal: put a lid on a large sheet of foil, press it down. Or cook salted dough, as in the previous recipe. Simmer for half an hour without opening. Now you know how to make chanahi. The recipe, of course, you can change a little on your own.
Related news
Chanahi. Recipe with a description image, picture, imagery