Chicken wings in the oven with potatoes
How to please yourself and home for dinner? This is perhaps the most pressing problem of all women. Many people want to cook not only a tasty and satisfying dish, but also the most simple and without any problems. For example, with potatoes. There are many recipes for this dish! But some are already traditional for many families. And by the way, not every restaurant is able to repeat these simple recipes in their kitchen!
Sharp to beer
Spicy wings with potatoes in the oven - this is one of the most simple but tasty snacks for beer. No chips and crackers then even want to try! For cooking you need:
head of large garlic;
hot chili sauce;
seasoning with red ground pepper in the composition;
soy sauce;
mayonnaise;
chicken wings;
potatoes.
First, prepare the marinade. Garlic should be squeezed through the garlic press, add to soy sauce (it will need 3-5 tablespoons). Mayonnaise needs a small package. Add seasoning and hot sauce (2-3 teaspoons).Wings are carefully coated with mayonnaise mixture, then marinated in garlic marinade for 30 minutes. You can put the container in the refrigerator so that the process goes faster.
Deep pan greased with butter, spread potatoes at the bottom. It can be cut into large cubes (parts). Wings laid out on top, and then poured marinade. Preparing a dish for 20-30 minutes at a temperature of 200-220 degrees. Such spicy and juicy wings in the oven with potatoes are perfectly combined with light cool beer.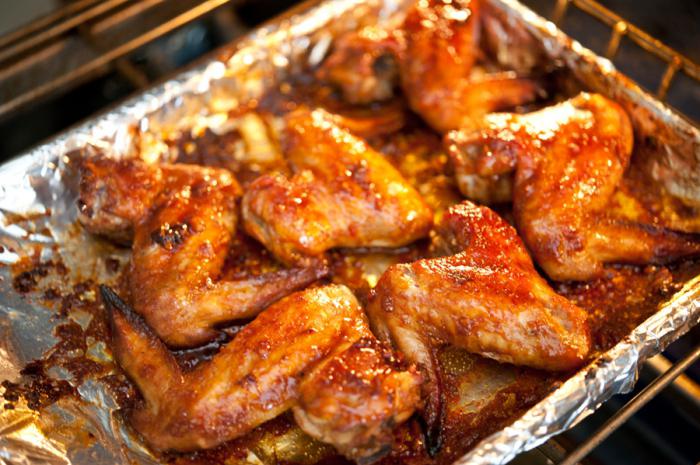 Simple family recipe
Wings with potatoes cooked in the oven are loved not only by adults, but also by children. And they can not be acute in excessive quantities. That is why you can cook the wings in the oven with home-style potatoes. This will require:
sour cream (glass);
tomato ketchup (glass);
fresh herbs (dill, parsley, basil);
lemon juice (2 teaspoons);
salt and pepper to taste;
chicken wings (1 kg);
potatoes (7-8 pieces of medium size).
Before cooking the wings in the oven with potatoes, rinse the wings thoroughly under running water. After that, they are rubbed with salt and pepper on all sides.Sour cream and ketchup are mixed, seasoned with lemon juice and greens. Wings are soaked in this mixture for 20 minutes. Potatoes are cut into circles.
Cooking process
First put potato circles on a baking sheet and salt. Lay the wings on top, but do not pour the sauce. To cook the dish as quickly as possible, cover the pan with foil. In the oven, roasting time at a temperature of 180-200 degrees is 20 minutes.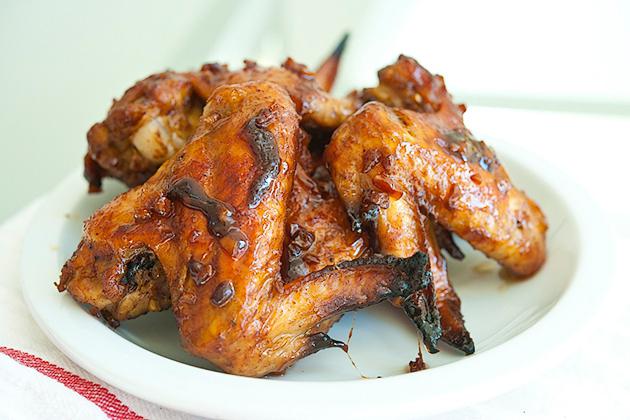 Beer wings in the oven with potatoes
The recipe is quite simple and quick. Marinating do not have to! For cooking you will need:
dark beer (can or bottle, 500 ml);
a pound of wings;
curry;
hops-suneli;
salt;
potatoes (4-6 pieces of medium size).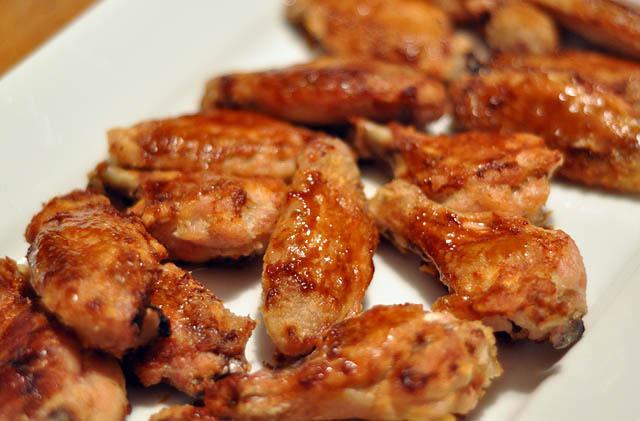 Add seasoning to beer, mix thoroughly. In a deep container for the oven spread potatoes, cut into small cubes, washed wings. All carefully salted (to taste). After that, the products are poured with spiced beer. Prepare the dish for 30 minutes in the oven at 200 degrees. This recipe is good because it turns out a very satisfying dinner for two or three people at minimal cost. No additional sauce is required, since the dish is so fragrant and juicy.
Grilled wings
This recipe is suitable for those who love grilled chicken and generally a bird with a crust straight from the oven. Only wings, salt, liquid smoke, potatoes are required for cooking. The latter, in order to save time, can be baked simultaneously with the bird. The wings are washed, dried from excessive moisture, carefully rubbed with salt. It is she who will give the very desired crust. Liquid smoke is injected under the skin with a syringe. It is needed exclusively for the flavor of the fire. Potatoes cut into small cubes, spread in a container. A small amount of water is poured into it. A grate for the oven is placed on top of the container, and wings are placed on it. So that they do not stick to the metal, it is possible to lubricate the latter with vegetable oil. Prepare the dish in the oven for 30 minutes at a temperature of 220 degrees. Serve with any sauce to taste. It is noteworthy that the potatoes are not just stewed and stewed, but also with a pleasant smoky aroma, because the juice from the wings flows into a container with root vegetables. The dish turns out to be especially nourishing, if the wings were chosen fleshy.
Other cooking options
Chicken wings with potatoes in the oven can be cooked according to absolutely any convenient recipe.For example, many housewives generally mix everything in the fridge for a marinade or sauce, and then they bake a bird in it. By the way, this is the way homemade recipes are born. For example, you can cook the wings in a tartar sauce with potatoes, baking them for 20 minutes under foil at a temperature of 220-240 degrees.
Related news
Chicken wings in the oven with potatoes image, picture, imagery