Freesia - a flower that conquers with its fragrance
Freesia - a very interesting and beautiful flower. It can be grown at home and in the garden. Freesia - a flower that has a lot of different colors. It is white, yellow, purple-blue and red. Inflorescences exude a delicate exquisite fragrance that helps get rid of depression and relieve stress. Freesia note is used in many perfumes.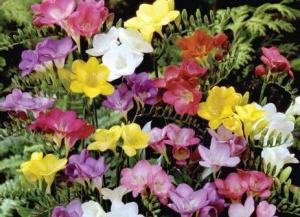 Cultivation of freesia
This plant has a difficult reputation. Freesia is a capricious flower, especially when grown outdoors. To achieve its flowering is not so easy. It should be remembered that this plant is very fond of heat. The optimum temperature for it is 15-20 degrees. However, in order for this representative of the flora to develop and bloom properly, the temperature should be maintained around 15 in the early stages of life. At the time of budding and flowering, the plant must be watered well. However, the soil can not only be overdry, but also re-moistened.Freesia is a flower that loves humid air, so when indoor growing around it needs to be sprayed with a spray (water should not be allowed to hit the flowers and buds). When cultivating a plant in a garden, it should be watered no later than 17 hours for the foliage to dry out.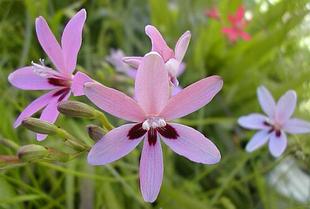 Excessive moisture combined with a night-time decrease in temperature contributes to the appearance of rot and fungal diseases. Freesia loves light. Therefore, it blooms when the light day lasts about 12 hours. In the room it is necessary to have closer to the windows. In the garden, the plant is best planted in a pile and in partial shade, although it normally feels in the sun. Freesia is quite fragile and is growing rapidly, therefore this representative of the flora requires support. This plant needs nutritious, moisture-consuming and loose soil. You can apply a primer for roses.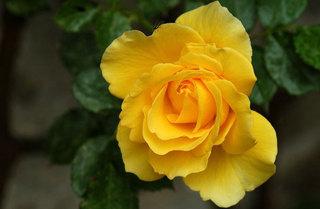 Planting and flowering
The bulbs are planted in April or early May, depending on the climate of a particular area. Soil before it is best to pour diluted potassium permanganate. It is necessary for about 3 hours to sustain the onions themselves. This is a good prevention of putrefactive fungal diseases.To this end, the soil is also watered with fungicidal agents. Processing the bulbs with a solution of zircon or epine has a positive effect on the growth and flowering of freesia. The plant gives the first buds in early August (late July). Flowering begins in mid-August.
Freesia hybrid
Homeland of this plant - Africa. This representative of the flora reaches a length of about 1 m. Its flowers are very fragrant and resemble the scent of lily of the valley. Inflorescences have a very interesting funnel shape. There are a lot of varieties of plants. Also varied and colors of flowers.
Rose freesia
This plant has a very interesting fruit aroma. His flowers are bright yellow, cupped and double. They are collected in inflorescences of several pieces. This representative of the flora blooms one of the first. Faded color falls quickly, so that this plant always has a neat appearance. These representatives of the flora grow well in open areas that are well ventilated. This reduces the risk of disease.
Related news
Freesia - a flower that conquers with its fragrance image, picture, imagery