Glue thermogun for needlework
The glue thermogun is intended for fast and reliable fastening of various objects. In order to produce work of high quality, it is necessary to choose the right device and follow safety precautions when handling it.
Diameter differences
The most common is an adhesive rod, whose diameter is 7 mm. It always has a small size, its heating occurs in record time. In order to squeeze the glue out of this rod, there is practically no effort needed. Such a rod is used in pistols of a much smaller size than the version with a diameter of 11 mm. Large bars also have their advantages. First of all, they consist in efficiency and durability of the product.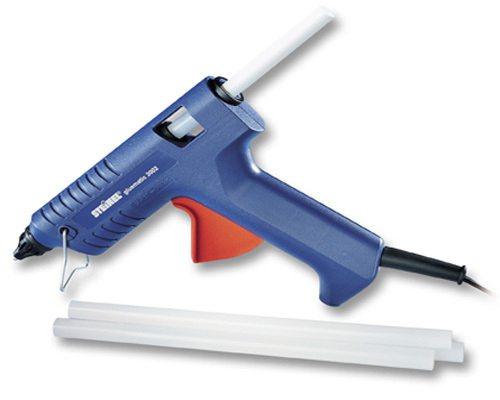 A variety of design solutions in the production of glue guns
Rods glue guns differ not only in size. There are plenty of options for their colors. There are even instances that are equipped with multi-colored sparkles, which allows using it to decorate the joints or fasteners.To make the rod universal in use, it is advisable to choose a transparent version of this product.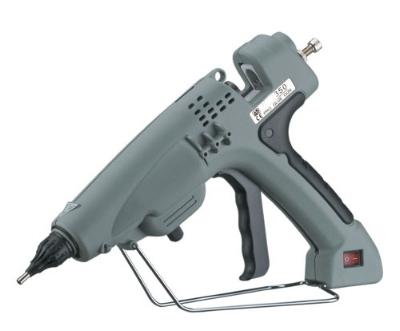 The separation of thermoguns on the economic and professional
When the glue thermogun is chosen, the price (for needlework is better to prefer the professional model) should be optimal. The cost of standard models varies in the range of 50-120 rubles. If you plan to use this product quite often, you must purchase a model for professional purposes in order to always have confidence in the uninterrupted operation of the device and in its durability.
If a pistol is chosen for household needs, you can work with it continuously for no more than 20 minutes. After that, you need to pause as the device should cool down. This must be done, as overheating of the gun is fraught with its breakage. If the cheapest models are chosen, it should be remembered that their durability is low, so it is advisable to conduct small work sessions with their help.
If you use the device for a long period, it is preferable to choose only professional thermoguns.Glue guns for good quality handicrafts are quite expensive, but the high price pays off in the process of work due to long-term operation.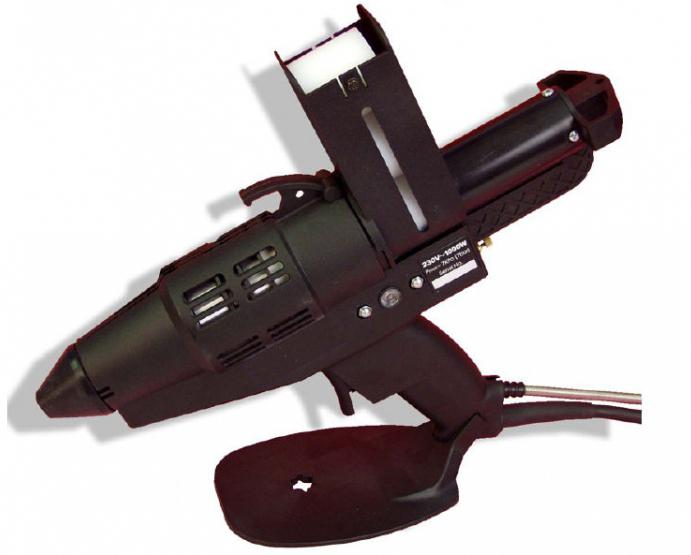 Temperature conditions
Low temperature is approximately 105 ° C. This mode has disadvantages. It heats up at a low speed, and cools very quickly. In order for the work to be carried out successfully, it is necessary to learn how to carry out all actions dependent on the heating gun in an accelerated mode. Of the advantages of this device, its moderate power is noted, which is not capable of spoiling such materials as foam plastic and foam plastic, therefore, fastening with this device can be carried out directly on them. This aspect is especially appreciated by craftsmen who create artificial bouquets of flowers.
If the heat gun heats up to a temperature of 165 ° C and above, it means that it is considered to be highly powerful. Due to the rapid and intensive heating with it, the work is done much faster than with the first option. To get the maximum benefit from both temperature regimes, you need to think about where to buy a glue heat gun, which combines the qualities of both of them.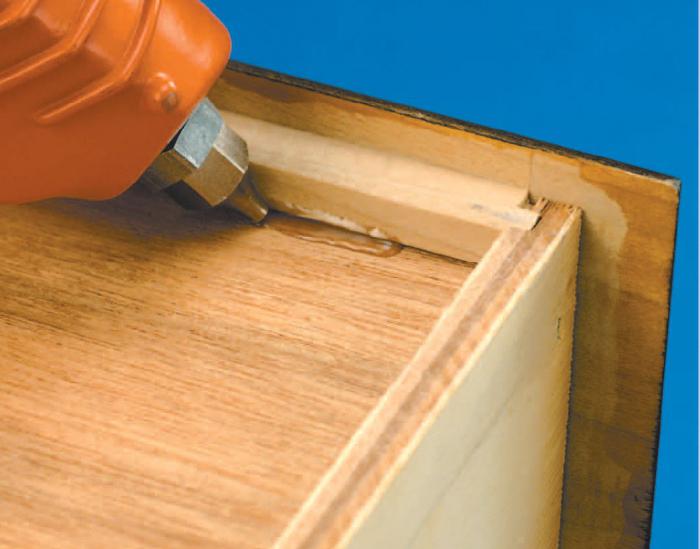 Features of the structure of thermal
Some models are equipped with convenient supports, thanks to which they are conveniently stored at the workplace.
If you purchase a professional device, you will notice that it is equipped with an anti-drip system. In conventional thermoguns, drops of glue flow out of the spout in almost any position. In professional this can not happen.
For pistols that are purchased for the price above the average, various nozzles are attached. In addition to the cone, which most pistols have, there are options with a rather narrow spout. This is especially important for people engaged in needlework. It is also useful in cases where you need to fasten enough thin parts. This feature will help to independently regulate the consumption of glue, the thickness of the layer of its application. The diameter of the rod does not matter. With the help of a thin spout it is possible to glue parts in places where it is almost impossible to get to with a standard nozzle.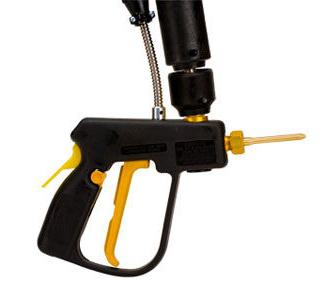 How to choose thermoguns?
Glue guns differ in cord length for recharging. Its thickness is also important, since the larger it is, the thicker its protective coating.It is important to choose a long cord, especially in those cases when a professional glue heat gun is purchased, that is, a durable purchase is made. Sometimes you have to mount elements at a sufficiently large distance from each other. Constant switching of the cord or using the carrying case is not always convenient.
It is necessary to ask to get the glue thermogun and to check all its components. They must be firmly fixed and not to be opened or moved. Various gaps and holes are not allowed.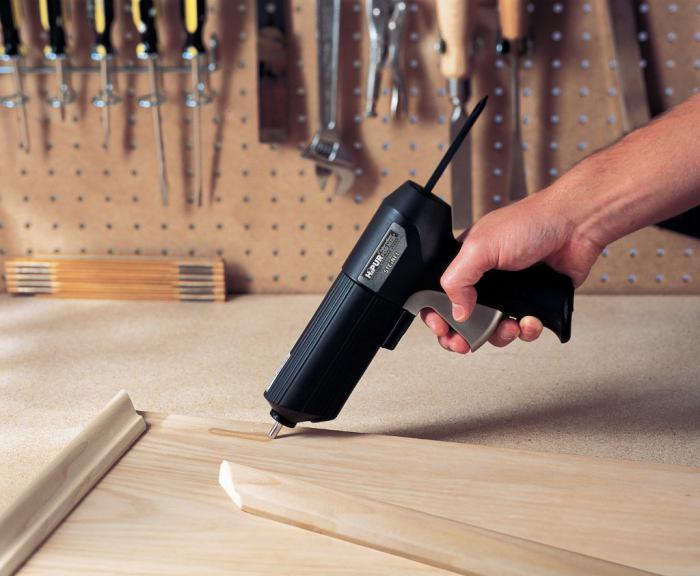 Basic steps when choosing a device
It is necessary to check the trigger, which is responsible for the proper flow of glue. It is necessary to immediately make sure that no difficulties arise when pressing. Otherwise it will be inconvenient to work.
Temperature is an important parameter. You can choose a more moderate or high heating rate, depending on the purpose of the device.
If a special stand is attached with the thermogun in the kit, you should check the quality and proper operation of its work. You need to put a gun on it and evaluate the appearance of the composition.The device must be absolutely flat. Any curvature suggests that the stand does not last for a long time, will cause inconvenience if necessary to quickly put the device on it. It is necessary to make sure of the stability of this element, since when the thermal pistol falls in or tilts, in which hot glue remains, it may leak, resulting in furniture or other objects. It is very difficult to clean the glue without harming the coating.
The seller needs to clarify the availability and warranty period. If you buy a glue thermogun, the price will indicate the quality of the product. Accordingly, there is a possibility of a quick breakdown of a cheap pistol. Repair it will help in the service center, and during the warranty period there will be no need to pay for repairs.
It is necessary to ask the seller to provide an outlet to ensure that the heating element is in good condition.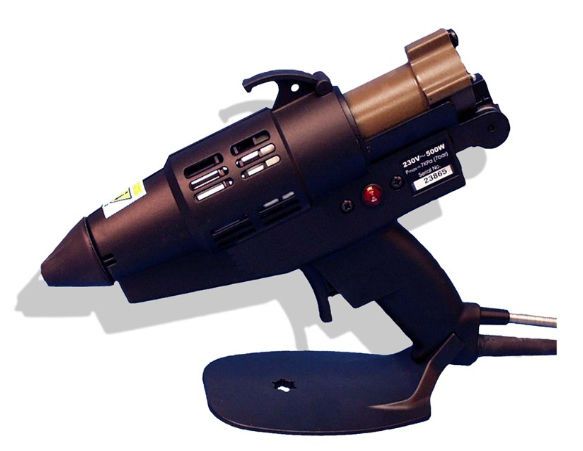 Safety
When working with a gun, it is forbidden to touch his nose with your hands, as well as to touch the glue, which has not yet stiffened. This can cause burns.
Until the glue gun thermogun is completely cool, it is forbidden to turn it over or turn it in your hands.If to make the careless movements, glue can spread on the body and get into the mechanism responsible for work of a glue stick. This will lead to a complete breakdown of the device.
For pistols that are not equipped with an anti-droplet system, special care is required. From time to time drops of glue flow out of the spout. To prevent the surface under it from deteriorating, it is necessary to put a piece of paper or saucer under this device.
When using glue thermoguns, you should follow the basic safety rules and apply them carefully so that they bring only benefit. To select the most optimal option, you must first analyze your own requests, and then check the quality and health of the mechanism of a specific device.
Related news
Glue thermogun for needlework image, picture, imagery