How to care for tomatoes? Top dressing, diseases, watering
Tomatoes are a favorite vegetable for many adults as well as children. Delicious pickles are prepared from juicy and ripe tomatoes, which can be enjoyed all year round. But before that you have to grow tomatoes, and this is a troublesome and time consuming task. We will teach you how to properly care for seedlings and mature plants that are planted in open ground. Having learned all the subtleties, you can start the new harvest season.
Preparing for planting seedlings
The main and most crucial point is the planting of seeds and their further cultivation. To get quality seedlings, you must always prepare in advance for its cultivation. The first thing you should pay attention to is land. To understand how to care for tomatoes, you need to learn to take care of the seedlings. Here are some secrets:
Collect soil from the places where you grow carrots, onions or cucumbers.
Peat, manure, a small amount of forest land, wood rot must be added to the ground.
All components of the soil thoroughly mixed and scattered into bags that need to be removed in a cold cellar. There, the earth should freeze, so you will get rid of diseases and pests that may be in it.
A week before sowing, seedlings should be kept at home at room temperature.
Now you can decompose the earth into containers and disinfect. To do this, prepare a weak solution of potassium permanganate and pour all the boxes on it.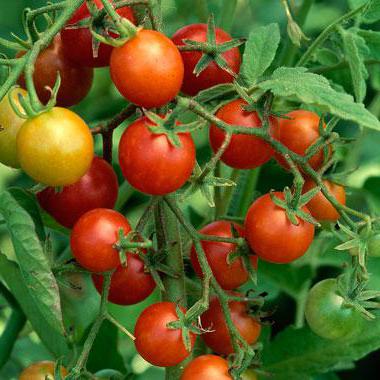 When you have everything prepared, you should think about the seed. It can be purchased at specialty stores or made independently. In either case, the seeds must be processed. So, they will be well tolerated by all diseases and temperature drops.
Preparation
Many experienced gardeners recommend planting seeds that are at least two years old. If you endure them so much in time, then most infections and diseases will lose their detrimental effects. Preparation of inoculum can be done in several ways:
You need to take a small container and pour warm water into it. Add 1 teaspoon salt.We put the seeds and stir for 5 minutes. Everything that has surfaced can be safely discarded, and the rest is washed under running water and planted.
Seed can be processed using potassium permanganate. To do this, it is necessary to prepare a solution of 1 liter of water and 1 gram of the substance indicated. Soak the seeds for a day. After that, wrap them and place in the fridge for a week.
Many experienced gardeners prepare the seed as follows: 1 teaspoon of wood ash must be dissolved in 1 glass of water. All thoroughly mixed.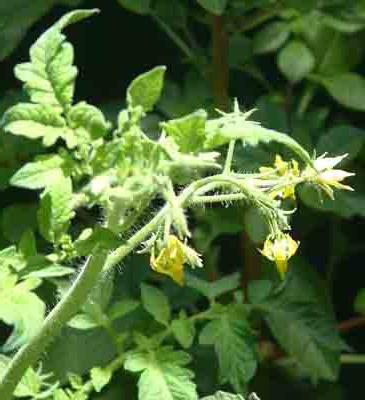 As you can see, before caring for tomatoes, you should handle seedlings carefully. Do not neglect the preparation of seeds. From this, your future harvest will only get better.
Seedling care
So, when you have the first shoots, it is necessary to take measures aimed at their preservation. For plants now need comprehensive care. Consider what it includes:
after the first shoots, the boxes with the seedlings must be transferred to the solar window sills;
make sure that there are no drafts;
the first watering should be carried out a week after the emergence of shoots;
in no case can not overwet the ground;
after the appearance of the first true leaves of the seedlings can be dive;
now each plant can be transplanted into an individual pot;
feeding a tomato at the seedling stage should be carried out every week, for this purpose gummed or complex fertilizers with microelements are ideal;
watering should be carried out no more than once a week, in sunny weather is allowed more often.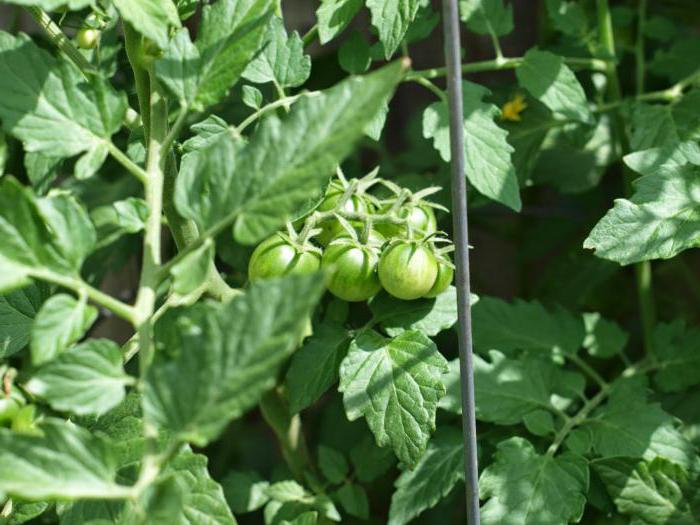 When the time comes, the seedlings can be transplanted in open ground or greenhouse. Depending on where you are transplanting your tomatoes, the care will be different. Consider each option separately.
Moving to a new place
If you are transplanting tomatoes under special cover, then it is worth remembering that they need careful monitoring and care. For a start it is worth considering what the beds inside the greenhouse should be. If you want to get a good harvest, plant tomatoes at a distance of 70 cm. It is recommended to fertilize the beds with humus, peat and sawdust. Immediately before transplanting, the ground is spilled with a weak solution of potassium permanganate in the ratio of 10 liters of water to 1 gram of substance.Now it is worth turning to the question of how to care for tomatoes in the greenhouse.
We take care of tomatoes
There are a number of recommendations that are aimed at caring for tomatoes:
Watering in the greenhouse is carried out once a week.
Every two weeks it is necessary to feed tomatoes with mullein.
Humidity in the greenhouse should be no more than 65%.
Watch the temperature. It should lie between 20-28 degrees during the day and 15 at night.
If there is a lot of shade in the greenhouse, then there will be few tomatoes.
Ventilation must be included in the compulsory care.
As soon as the weather becomes normal and frost is not expected, you can leave the windows open in the greenhouse.

Flowering tomatoes
Growing tomatoes in a greenhouse is good, but what if they pollinate there badly? Here you need to do the following:
shake the inflorescences gently with your hands every 4 days;
manual pollination should be carried out with an additional spraying of inflorescences with water;
All work is done in dry and sunny weather.
But still no one coped with pollination better than bees. Experienced gardeners know many secrets to attract insects. Consider them:
Hang a jar of honey or jam near the entrance to the greenhouse. A sweet smell will attract bees.
If you have your own hive, then at the time of intensive flowering a tomato can be transferred to a greenhouse.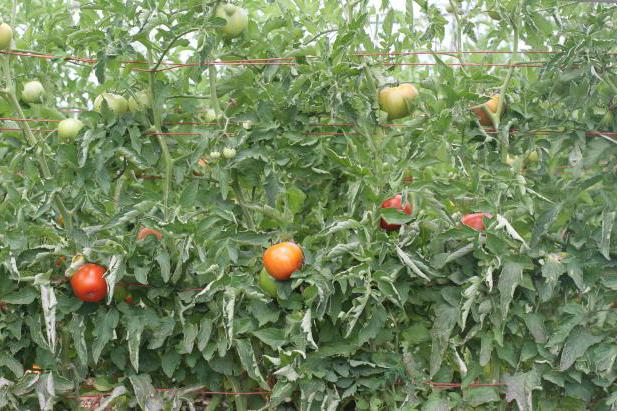 We have discussed the issue of how to care for tomatoes in the greenhouse, now we need to pay attention to the open ground.
Tomato care in the open air
Planted tomatoes in open ground from about 7 to 11 June. You can adapt to the lunar gardener's calendar, which will tell you auspicious days. The care of tomatoes in the open field includes the following:
Masking. Remove side shoots that take extra strength and moisture. Do this when the tomatoes are young. If you do not know how to take the stepson tomatoes, then you can ask for help from your neighbors in the cottage, who are more experienced.
Pollination. The amount of the crop will depend on the ovaries. You can do this manually or resort to the help of insects, which you must first lure to the ridge.
Watering. If the summer is dry, the soil is moistened every three days. Tomatoes love when they are watered in the evening and in large quantities.
Top dressing tomato.For this, phosphate and sulphate fertilizers are suitable. During flowering tomatoes feed them with wood ash. It will also prevent various diseases of the tomato.
Harvest correctly.To make the tomato a lot, remove the ripe fruit every four days.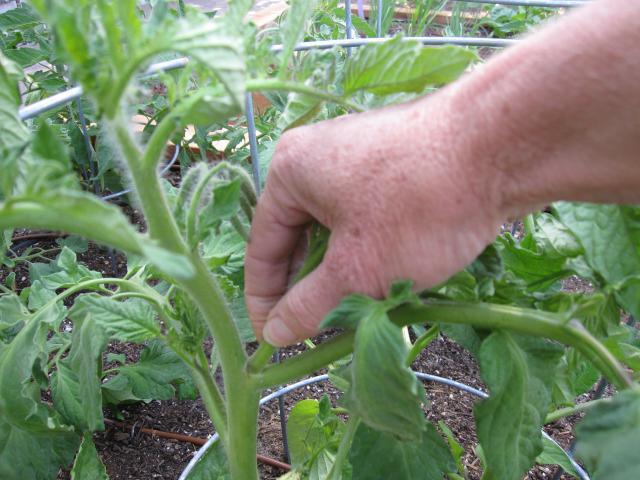 Now you know how to care for tomatoes in the ground. The taste and the number of tomatoes on each branch will depend on this.
Tomato crisis
Today, diseases of tomato are cured, but this does not make them smaller. You need to know your enemy by sight:
White rot. Occurs at low temperature in the greenhouse when transplanting tomatoes.
Root rotYou can see it on plants that bear fruit, or on seedlings.
Gray rot. Light green spots with brown dots.
Stem rot.Dark brown spots appear on the trunk of a tomato.
Mosaic tomato.This is a virus. Manifested in the form of light spots on the leaves and fruits.
Septoria.These are black spots. They gradually begin to increase in size, if time does not take action.
Now you know how to care for tomatoes, and no matter where they grow - in the open field or greenhouse.Timely watering and dressing will give only a positive result. Even on how you plant the seedlings, will depend on the further stay of the tomato in the garden. Knowing not only in theory, but also in practice, how to care for tomatoes, you can even give your neighbors advice.
Related news
How to care for tomatoes Top dressing, diseases, watering image, picture, imagery