How to cook fish and rice pies
Fish pies are very tasty and nourishing patties, which are baked in an oven in just forty-five minutes. It should be noted that completely different products can serve as a filling for such a dish. However, below we will consider only one cooking option - with pink salmon.
Fish pie: essential ingredients for the base
thirty percent sour cream - five hundred milliliters;
chicken eggs - one or two large pieces;
wheat flour - to obtain a thick and plastic dough;
granulated sugar - a few pinches;
baking soda - ½ part of a dessert spoon;
cream margarine (can be butter) - a whole pack;
table salt - 2/3 dessert spoons.
Pies: a recipe for kneading dough
For the preparation of such a delicate and delicious base should use only a thick thirty percent sour cream. Thus, five hundred milliliters of dairy product is required to put in a metal bowl, and then add to it ½ part of a dessert spoon of baking soda.It is worth noting that before this sour cream it is advisable not to keep in the refrigerating chamber for about five hours, as it should be at room temperature. Next, you need to melt creamy margarine or butter in a separate small dish, cool it in air and pour in the dairy product. Also, add a bit of granulated sugar, iodized salt and chicken eggs to the mass. All ingredients should be whipped with a whisk or fork, and then, adding wheat flour, thickly knead the dough. After the base is ready, it must be placed in a plastic bag and set aside for a half to two hours. In the meantime, prepare the remaining products.
Pie with fish: the necessary ingredients for the filling
long-grain rice groats - one and a half to two glasses;
pink salmon - two whole kilogram pieces;
ground pepper - two pinches;
iodized salt - ½ part teaspoon;
bulb onions - at personal discretion.
Fish pie: a recipe for filling
Fresh pink salmon should be thoroughly washed under a warm stream of water, and then remove all fins, head, tail, skin and bones from it.In the end, there should be only red fillet, which you want to cut into small pieces. Next you need to start processing cereals. It should be cleaned of garbage, washed and boiled in salt water. After that, all the ingredients you want to mix, add salt, chopped onion and pepper.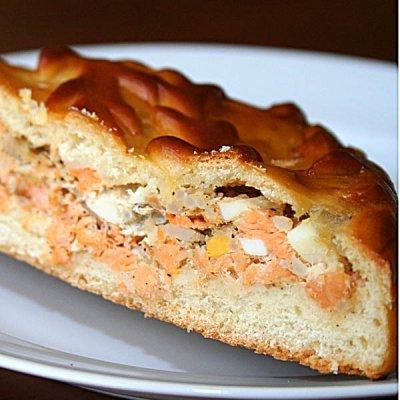 Pies with fish: the formation of dishes
In order to make such patties, it is necessary to take a small piece of dough, roll it into a pancake, put two large spoons of fish stuffing in the middle and close it so that only a small hole remains on top. By analogy, you want to form all the other pie, and then put them on a greased sheet and send in a preheated oven.
Proper serving
Full readiness of such a dish comes after forty-five minutes. Thus, all the pies need to be put in a large plate, and then served for dinner along with tomato sauce and sweet tea.
Related news
How to cook fish and rice pies image, picture, imagery