Mandarin Duck: description and photo. Find out where the mandarin duck lives
Such a bright and beautiful miracle in nature can hardly be found, the mandarin duck with its unusual, bright plumage broke all records among the Mandarin duck belongs to the genus of forest ducks, this small colorful miracle is similar to a fabulous creature. It is necessary to get acquainted with these handsome men closer and learn about how and where they live in nature.
Mandarin Duck: Description
They cannot boast with the large size of the duck, but even with a relatively small body, they can be seen from afar thanks to the plumage. Amazingly beautiful mandarin duck, a description of this beauty is noteworthy. The body of a bird is 40-50 cm long; it weighs less than one kilogram (500-700 g) in weight. Wingspan - 60-70 cm.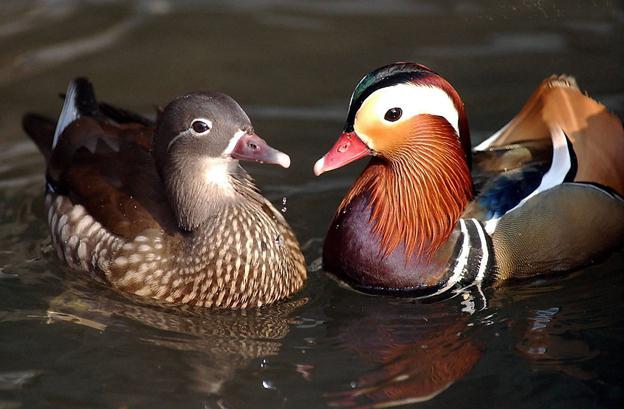 Males are real beauties with bright plumage, females look very poor on their background, their nature has painted in gray and brown tones. Maybe it was planned by nature so that the duck could quietly hatch ducklings, unnoticed by anyone, in its nest.Males are painted so beautifully and brightly in order to cause sympathy in females.
Let's take a closer look at the "outfit" of "men" mandarins. There are three types of long feathers on their heads, each species is painted in its own way: on the top there are red with purple-green edges, near the corners of the eyes are white, near the beak there are red. But these are not all the colors that a male of amazing duck can boast. The bird's body is also painted with different colors: the top is black, the bottom is white, the chest is purple, and the sides are fawn with a mesh pattern. Paws and red beak.
Wings of birds deserve special attention, each one of them has one broad feather, something resembling a sail. These bird "sails" of red color with a blue edging.
Where lives in nature?
Where does the mandarin duck meet in nature? The Red Book already has this species of birds on its pages, so there are not so many of them left in the natural environment. There are ducks in the Far East, in Europe you can meet fugitives who escaped from private possessions and settled down in the wild. Those birds that live in the south are considered settled, the northern inhabitants are migratory, they spend the winter in Japan and China.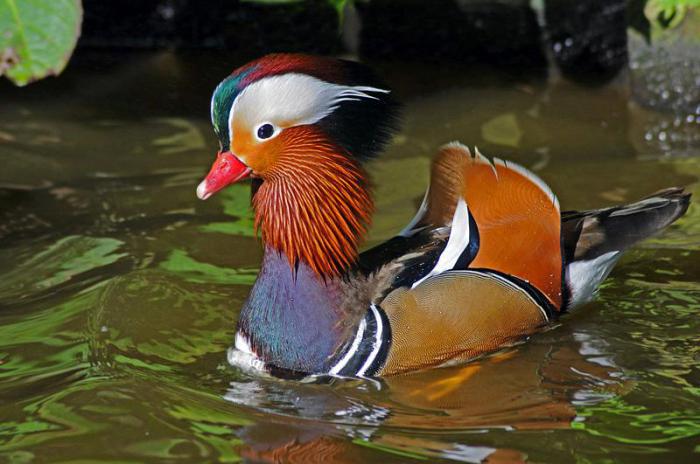 Where does the mandarin duck prefer to be settled, where does this little miracle live? Their favorite places are the banks of forest rivers, on which a lot of trees grow, to this condition we must also add that these banks must be rocky.
How do mandarin ducks behave in their natural habitat?
Mandarin ducks live in pairs or alone, but after the chicks have been bred. On wintering get together in small flocks. These are very timid and cautious birds, very rarely you can hear their voice, like a quiet whistle.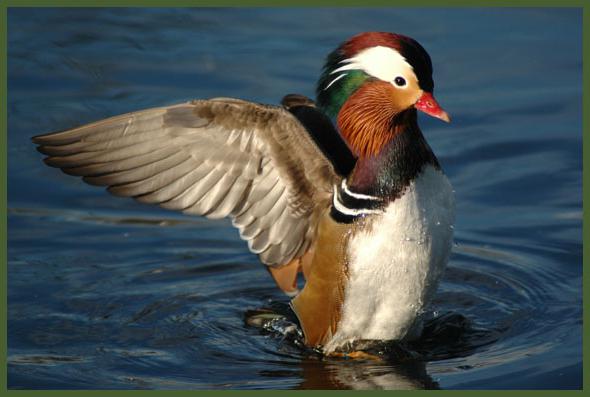 Tangerines are waterfowl, but, like ordinary birds, they love to flit among the branches of trees. Due to their small size and weight, they freely and quickly jump along the branches. In flight, they feel light, fly up without a run-up, rising sharply into the air with the help of strong flapping of wings. In the air can make sharp turns and other complex pirouettes. As for water procedures, the birds swim willingly, only dive without enthusiasm, doing this only when there is a danger.
What do they eat?
The mandarin duck is mostly a vegetarian, although sometimes it likes to be pampered with a frog or a fish, small invertebrates can also get to dinner with bright birds.
As for the vegetable part of the bird menu, the favorite delicacy is acorns and nuts. Also in the diet includes berries, seeds and hard fruits of plants.
Mating season
Mandarin Duck from February to March begins to choose his mate pair. Marriage period is not without courting! During toking, boasting of males with their beautiful plumage is the highest argument for the female. Trying to appear before the chosen one in the best light, the tangerine males swim around the females in circles, showing their color of all the colors of the rainbow. Often they swim with their heads tilted so that the beak is half hidden in the water. Monogamy reigns in this bird species, couples are created, but next year there will again be new courtship and new partners, loyalty between the "spouses" lasts only one season.
Divided into families, the birds pick up their nest. Having settled in the hollow, the female begins to lay eggs, usually in one clutch there are from 8 to 15 eggs. Hatching lasts 30 days, the male and female take turns sitting on the eggs.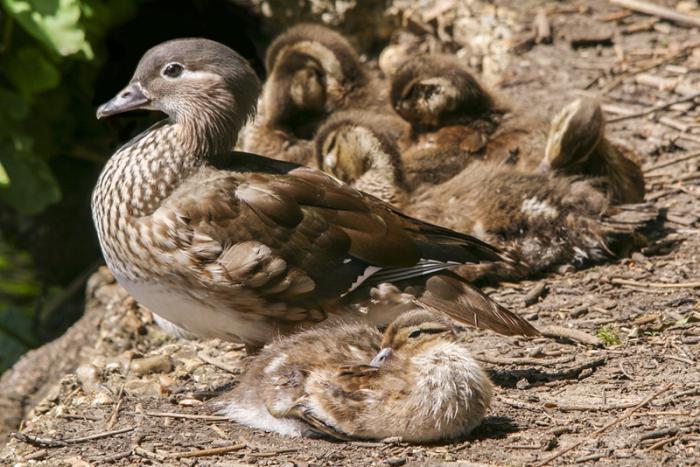 Chicks are born covered with gray fuzz and fully developed. An interesting fact is that the kids immediately leave the hollow and follow their mommy.How is this possible at such a height? Everything turns out to be very simple - the chicks are light, they jump out of the nest and plan through the air, like parachutists, safely landing on the ground.
The duck mother leads her cubs to the pond; in a month and a half, the little ducklings can fly. Dad, believing that his duty is fulfilled, leaves the family. At this time, males and females are separated, "women" raise their babies, and "men" gather in flocks for a molt period. Probably, they do not want their ladies to see their gentlemen in an unattractive form during the change of plumage.
Unfortunately, among the hatched chicks, the mortality rate is too high, because so many dangers lurk until they can fly. Natural enemies of mandarins: fox, raccoon, raccoon dog, birds of prey. You can add protein to this list. These red fluffy very often ruin duck nests. Parents can not always protect their brood.
Mandarin Duck: Red Book
Mandarin ducks need protection and protection of a person, this rare species is listed in the Red Book, hunting for these magic birds is prohibited!
I am glad that the number of birds of this species is high, but only due to the fact that they feel great in captivity, they are easily tamed.People are happy to get such beauties at home. In addition, the birds are very prolific and breed well.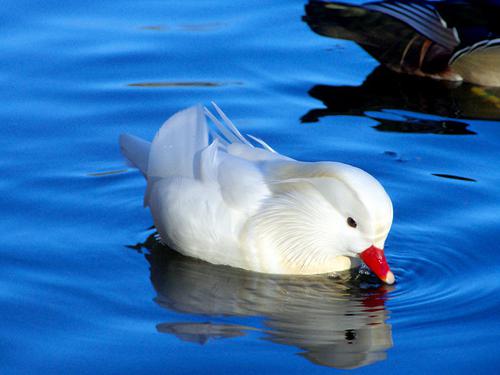 Due to the beautiful colored plumage, this type of ducks is considered one of the most fashionable in decorative poultry farming. With their hard work, the breeders achieved the birth of a new form - this is a white mandarin duck. Pure white handsome, however, still too little.
Related news
Mandarin Duck: description and photo. Find out where the mandarin duck lives image, picture, imagery