Sights of Kyrgyzstan: nature, historical places, culture
Before a tourist trip to Kyrgyzstan, you need to know which places to visit first. Kyrgyzstan is a great place to relax, not many countries can boast such interesting cultural and historical sights. There are unique mountains and lakes, museums and theaters, monuments and architectural structures.
Red Mountains
25 kilometers from the city of Karakol there is a very colorful valley with red mountains, it is called Jety-Oguz, which means "Seven Bulls" in Russian. There is an old and beautiful legend about the origin of these mountains in Kyrgyzstan.
Many years ago, there were two Khans, they were neighbors. One of them had a very beautiful wife who was stolen by the second khan. Naturally, the man demanded the return of his lover, but was refused. Khan, who stole the girl, started a terrible crime.For six days, he killed a big bull, and on the seventh he killed a girl. Blood spattered out of the girl in the place where her scarlet drops fell and seven red rocks appeared - Jety-Oguz.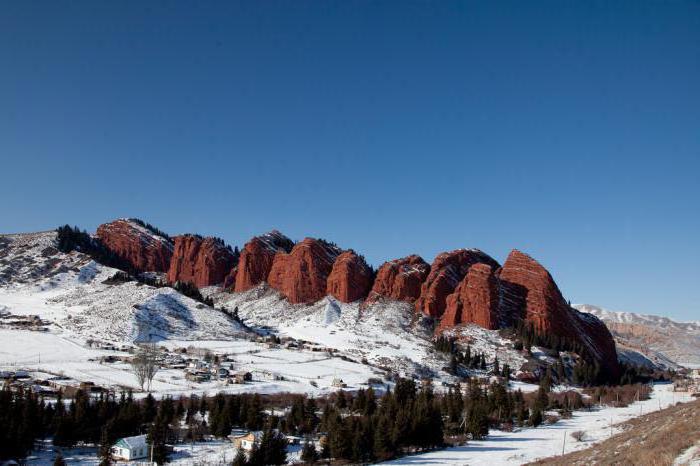 To enter the gorge of the Seven Bulls, you need to drive another gorge, which has the outline of a broken heart. According to legend, this is the broken heart of a beauty that two young men loved, but they killed each other in a duel for her love. These two mountain sights of Kyrgyzstan are incredibly popular not only in this country, but also far beyond its borders. Also these mountains are a symbol of the whole Issyk-Kul region.
Arriving to look at the mountain gorge, you can immediately visit the old cemetery and mounds, which are dated to the seventh century BC. Their diameter is 28 meters, and height - 3 meters. By now, they have become smaller. If a visit to the gorge of the Seven Bulls falls on the month of May, be sure to visit the Valley of Flowers, at this time you can see an incredible amount of blooming red poppies.
Cathedral in Bishkek
The Resurrection Cathedral is located in the capital of Kyrgyzstan. It is considered one of the main attractions of this large city. Its construction was started in 1943.The head of construction was the famous architect V. V. Veryuzhsky. The building was faced with ceramic tiles and covered with a gable roof. The upper part of the cathedral is decorated with six domes, which are located on the high and narrow drums. A tent bell tower with a height of almost 30 meters was also erected.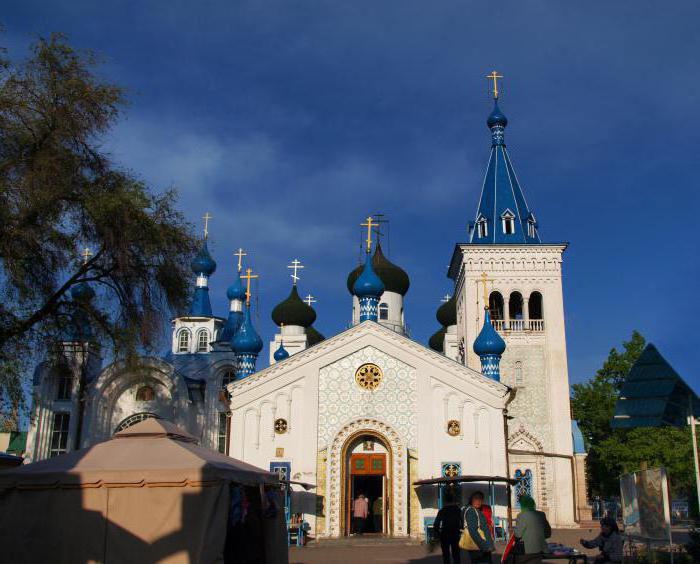 Near the church altar are two thrones - St. Alexis and the Resurrection of the Lord. Here you can also see the three-tier iconostasis. More than twenty years ago, the President of Kyrgyzstan ordered the reconstruction of the building. Then the Resurrection Cathedral was transformed, and its territory expanded significantly. A place that is really worth visiting is a church with Asian notes. It harmoniously combines classic domes in the form of onions with Asian ceramic cladding, snow-white colors and a blue roof with some elements of ornament that can be more attributed to Asian culture.
Ancient tower
Part of the archaeological and architectural museum, which is also a monument of the cultural heritage of the people of Kyrgyzstan, has the name Burana Tower. This building was the minaret of a mosque destroyed in the 12th century.An impressive picture: among the fields, there is a lonely tower that you can even climb. This is one of the oldest buildings in Kyrgyzstan, the mosque was built around the tenth century.
Initially, the minaret had a height of more than forty meters, but an earthquake destroyed part of the tower, at the moment it is slightly less than 22 meters. Inside the building there is a staircase that leads up to the top. The Burana Tower is located 10 kilometers from the city of Tokmak and not very far from Bishkek, about an hour and a half drive away.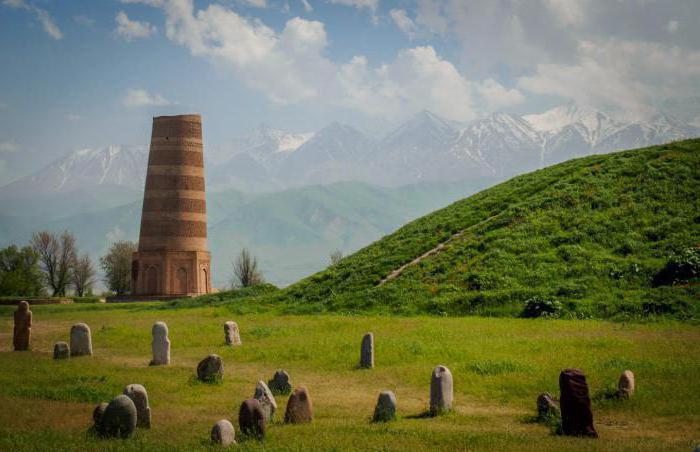 From 1970 to 1974, restoration work was carried out, the main thing in this business was B. Pomaskin. During the restoration, a lot of work was done: the octahedral base was completely rebuilt and rebuilt; another staircase was made on the southern part of the tower.
The largest lake in Central Asia
At an altitude of 1600 meters above sea level and between two mountain ranges there is an incredibly beautiful lake - Issyk-Kul. It attracts tourists not only because it is located in a mountainous area, but also because it is the largest body of water in Central Asia and one of the largest in the whole world. When you hear such a statement as "Pearl of Kyrgyzstan", it immediately becomes clear that this is about this lake.It has a high transparency of water, the color of which can vary due to sunlight. The water may be light blue in color, and sometimes it becomes dark blue. If you climb one of the many snow-capped peaks, you can see a natural picture of incredible beauty.
There are about eighty rivers and streams in Issyk-Kul, and the lake itself has no runoff. Due to this, the water here is salty, and even in the coldest winter the water temperature does not fall below + 4 degrees. The lake does not freeze in winter. In summer, in shallow waters, the water temperature is about + 23 degrees.
A large number of resorts have been built on the coast of the lake, which operate throughout the year. Therefore, here you can always meet a large number of tourists from Russia and other CIS countries. Foreigners also love to come to this place. Near the lake you can not only have a good time and relax, but also significantly improve your health.
Alpine lake
In the basin between the spurs of the Tien-Shan mountain system lies an alpine lake. On its coast is a protected area and clean pastures. The nearest settlement is the village of Chaek.Lake Sonkel (Kyrgyzstan) is located at an altitude of more than three thousand meters above sea level. Its area is 278 square kilometers. In winter, it is almost impossible to climb to it. More than two hundred days a year, Sonkel harbor snow. In summer, the water temperature does not exceed + 11 degrees. Since ancient times, meadows near the lake have been used as pastures. Shepherds bring cattle to this place and all summer live here in yurts. Lakes Sonkel and Issyk-Kul are the most popular natural attractions of Kyrgyzstan.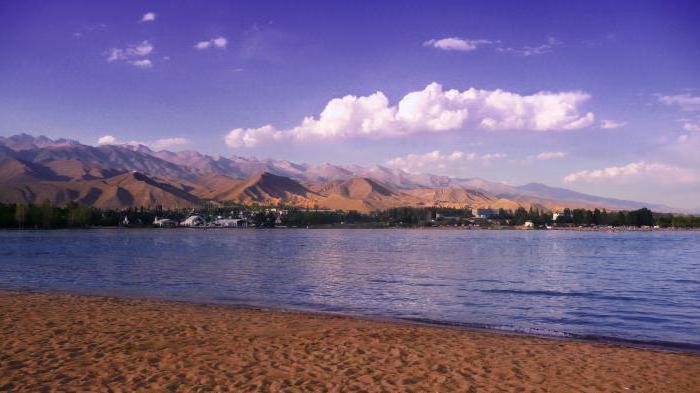 The reservoir eats a large number of small streams, flows into the river Son-Kul. Unfortunately, there is no exact information, but various sources report that from 41 to 69 species of various birds live here. Sonkel is home to such waterfowl as the black-headed gull, mountain goose, demoiselle crane, black stork. Also in the lake lives 10 species of fish. But this is not a complete list of animals that Kyrgyzstan can boast of. Excursions to these places leave an unforgettable impression. Be sure to visit these incredible lands.
Culture of Kyrgyzstan. Theatre of Drama
The sights of Kyrgyzstan do not end only with incredibly beautiful landscapes and unique natural places.In this country there are a large number of theaters, museums and conservatories. For one tourist trip, of course, you will not be able to visit them all, but you need to get acquainted with the most famous ones.
The Kyrgyz National Academic Drama Theater, which was erected in 1926, is located in the capital of the republic. In 1997, he was named after T. Abdumomunov. Over the past 88 years of the theater's existence, more than 600 different performances have been staged, which could be observed by different generations of theater lovers.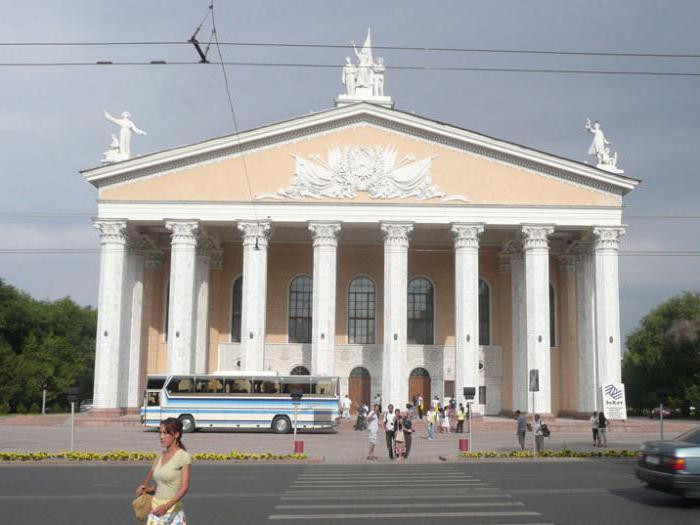 On this stage, people who are very famous in cultural circles - well-known playwrights, directors and actors have worked and are still working to this day. The repertoire of this theater is quite diverse, there were staged the works of the classics of world literature, local famous personalities or simply young talented authors. Several generations of actors, directors and other specialists work in the theater named after T. Abdumomunov. The theater was the winner of several international festivals, for numerous different achievements he was awarded the status of "National" and "Academic".As of today, the main director of the theater is Temirlan Smanbekov, the main director is Shamil Dyikanbayev.
Ala-Too Square
In the very center of Bishkek, there is a huge square called Ala-Too. Several years ago it underwent a major reconstruction, and at the moment it is one of the most beautiful places in the whole city. A large number of flower beds appeared here, a beautiful and large fountain was built.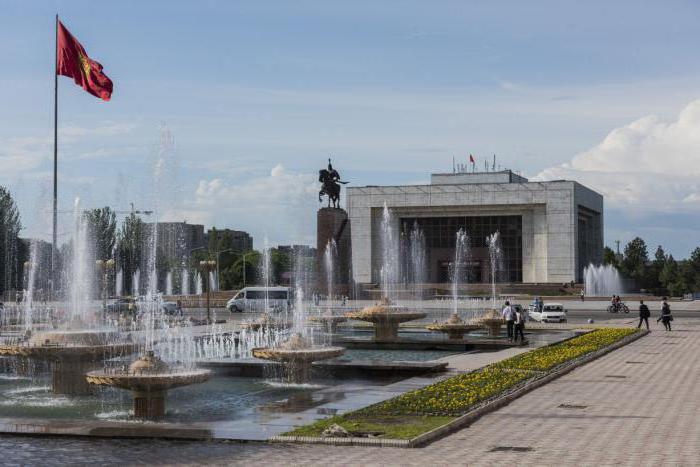 Along the perimeter of the square there are classic tourist spots: the State Historical Museum, the open-air museum, the Oak Park, the Monument of Friendship of Peoples and the oldest building in the city, the Nikolskaya Church. This place is a landmark for all of Kyrgyzstan, there are constantly held various folk festivals, as well as all anti-government rallies.
Museums of Kyrgyzstan
Kyrgyzstan (Bishkek) has a large variety of museums. If you have time, it is highly desirable to visit them. But in most cases there is always not enough time, then you need to visit at least the most popular ones.
State Historical Museum
This museum is not something unique and unique, but it reveals in detail the history of the origin of the republic, tells how people lived in antiquity and in Soviet times.In this place often lead a large number of students and students. The building is a two-story building: on the first floor you can explore the ancient history, and on the second floor you can learn everything about life after the revolution. The big advantage of this museum is that it is located in the very center of the capital. Walking along its streets, you can go here and not to waste an hour of your time.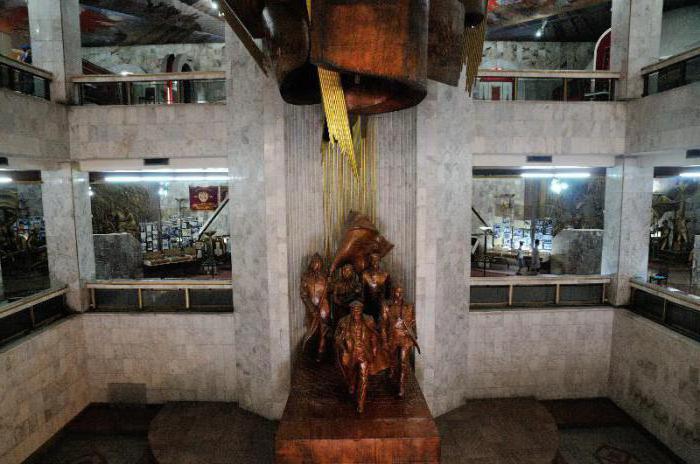 Art Museum
Bishkek is a fairly young city, so there is no opportunity to see some historical sights in this museum. Despite this, such a place is very difficult to avoid. Here in the permanent exhibition are the works of many Russian and Soviet artists. Also in this building there is an exhibition of applied art, and often you can see various thematic exhibitions. Traveling around the country with the whole family, you should definitely visit the museums of Kyrgyzstan.
Old building
In the middle of the fields is an old building, which is more than a thousand years old. This outstanding work of Central Asian architecture is called Tash-Rabat. This square structure is 34.8 by 32.4 meters. It turns out that the building looks to all four directions of the world, with the main gate facing east.
After the latest research it became known that this is a very old building, which was built in the tenth century. It is assumed that initially this building was intended for Christians or Buddhists and was their haven. A little later, Tash-Rabat served as a refuge in which hermits and refugees hid.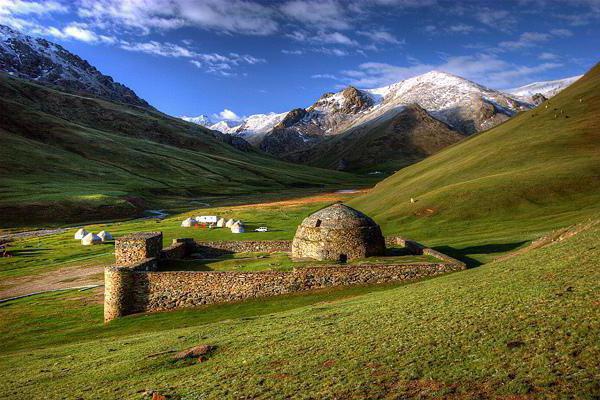 At the time of the Silk Road, this building turned into a caravanserai (in our hotel). There are 31 rooms here, all of them are located around one big hall, they are crowned with 11 vaults and 20 domes. It is noteworthy that the building is completely absent roof. Tash-Rabat has a large number of underground passages, prisons and all sorts of passages.
Monuments in Kyrgyzstan
Monument to Yuri Gagarin
The bust of Yuri Gagarin was placed on a stone, because during his visit to this country, the astronaut climbed on it and took a photo. During the collapse of the USSR, the monument was destroyed and completely plastered with concrete. But thanks to the Moscow government, the bust was relatively recently restored.
Monument to Chingiz Aitmatov
Kyrgyzstan (Bishkek) has a large number of different iconic structures. Almost in the heart of the capital is a monument to one of the most famous Kyrgyz in the world. Genghis was a great writer, many of his works have become classics.The locals love and respect this person very much.
Monument "Fallen for Freedom"
This is the most favorite monument of local residents who value their country and are its patriots. This structure conveys well the meaning of modern history of the republic Tourists are also very fond of this place, they are willingly photographed near the monument.
And finally
Spending your vacation in Kyrgyzstan, you need to try to maximize see all kinds of attractions. If everything has been visited, and there is still time, then do not despair - this is not a complete list of what can be seen here. You can also note such popular sights of Kyrgyzstan as the Central Mosque, Barskoonsky Falls, Russian Orthodox Holy Trinity Cathedral, Torugart Pass.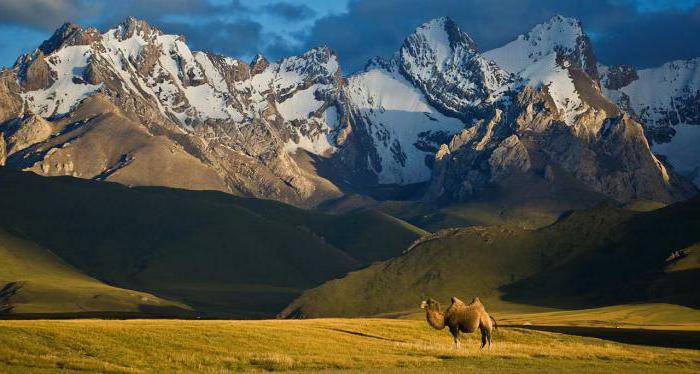 Kyrgyzstan is a beautiful country with an incredibly beautiful virgin nature. Here you can see unique places: lakes with non-freezing water even in severe frosts, red rocks, ecologically clean pastures, museums, churches and mosques. Kyrgyzstan is especially beautiful in spring and summer. Here is simply indescribable beauty of pristine nature.Anyone who loves traveling with the whole family should definitely visit this incredible country.
Related news
Sights of Kyrgyzstan: nature, historical places, culture image, picture, imagery