Stuffed toys from socks do it yourself: master class
In any store of children's goods you can find a lot of a variety of rag bunnies, cats, cubs and what only the soul wishes. That is why the question of why to make toys from socks independently, while spending your free time and effort, is quite logical.
Why do you need it?
In fact, in this plan, the first place is not a lack of objects for entertainment, but the need to cultivate certain character traits in a child. Joint classes fun and interesting hand-made are able to develop creative skills in the kid, to accustom him to perseverance, concentration, contribute to the development of fine motor skills, which directly affects his speech.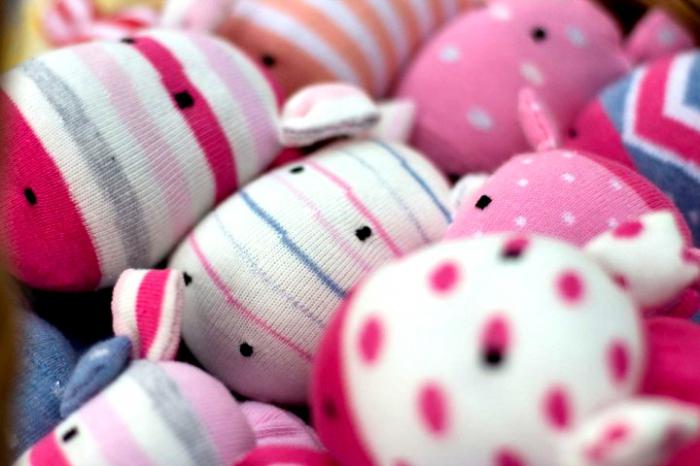 In addition, a soft toy made of a sock with your own hands is also an excellent opportunity to spend more time with your child, get close to him, rally your family thanks to this unusual activity.And if you also have a rare fidget, with the help of this entertainment you can at least pacify the too active temper of your child.
Develop imagination
Working on the creation of a toy together with the parents is an ideal pastime for any child, and your baby will also like it too. This is a very simple, but at the same time fascinating activity, with which you can perfectly develop your imagination. In addition, the memory of these hours spent together will remain with you for the rest of your life in the form of cute, funny crafts.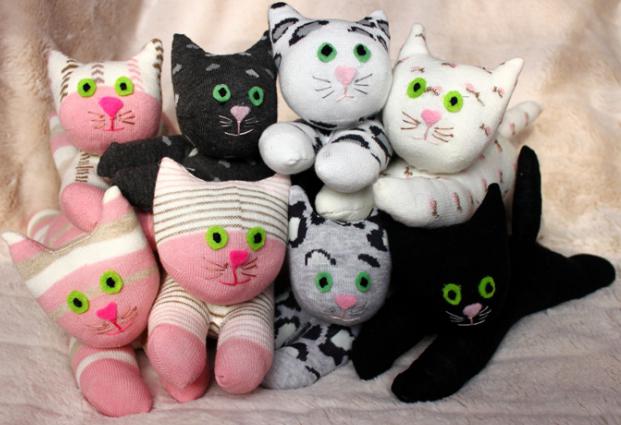 Making toys from socks, the child begins to think creatively, he even begins to form his artistic taste to some extent and his creative ideas appear. He will also be able to give his works to other children for holidays or just like that. This will be a useful tool for him in establishing warm relations with the annual children and friendly communication with them.
We collect materials
There is nothing difficult in explaining to a child how to make a toy from a sock. For manufacturing, you can use an extremely simple method. First choose a sock that will soon turn into a little animal. You can take monophonic or striped, it does not matter. The main thing - that he was not too fat.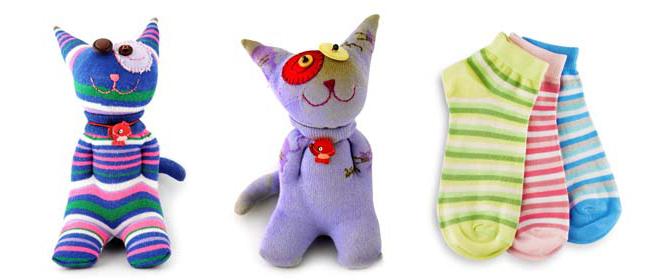 Choose the threads that best match the color of the base material. If it is not solid, make the firmware in a neutral shade like white, black or brown, which will not contrast strongly with the fabric.
Also separately prepare a thick fabric for the ears. This may be a very short cut from an old shirt or dress. You will also need a filler. The best option is a synthetic winterizer, but the most ordinary cotton wool is also quite suitable.
We form a little body
A soft toy of a sock with your own hands begins to form at the moment when you cut off the gum from the sock and stuff it with the material you chose to fill. Do not put it in too much so that the body does not turn out to be excessively tight. After all, then you will need to still form the head and legs of the animal out of it.
After that, sew a hole - and you will have a soft oval. Take a kapron thread and tightly drag the body with its help in the central part. So you make a toy head. In the same way make the bottom of the legs.
Create an image
Your soft sock toy is actually ready.Remained the final stage of work - the design of the little animals. You can embroider or paste eyes and a mouth out of cardboard. In order to make clothes for her, cut a piece of elastic from the toe of another color, the width of which leaves about five to seven centimeters, and put it on the craft as a sweater.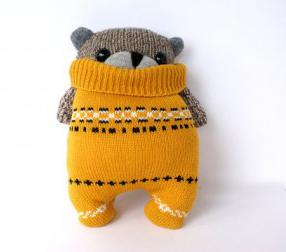 In the same way, but using material of a different tone, you can make a trouser for the animal. In this case, you will need to make a seam between the legs, so that you have two legs.
Pens are also not difficult to create. For this purpose, twist two small balls from the scraps and sew them to the jumper just below the head.
The final stage in the work on the creation of a toy from socks is cutting out the ears for her from the dense fabric. Depending on their shape, you can determine what kind of animal you have turned out. If they are oblong, then you make a bunny, round - a bear cub, and triangular - a cat. If you do not sew any ears, then your toy is a snowman.
Cute details
How to make a toy from a sock? An important role in this process is played by its decoration with buttons, beads, ribbons, laces and other decorative elements.Let the child tie a small bow on the animal, sew accessories, independently invent clothes for it. This will bring the child a lot of pleasure and contribute to the development of his creative thinking.
Such crafts can make an unlimited number. And since there are enough old socks in every home, there is plenty of material for work. Sock toys can be of various colors, and their design provides a lot of opportunities for the flight of fancy.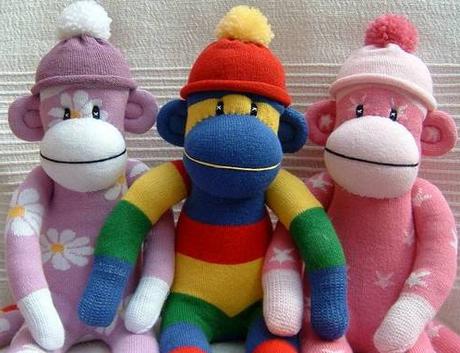 You can make an entire puppet theater right in your home from such animals: invent a name, character, story for each of them and play a wide variety of scenes from their lives between the characters.
This entertainment will not only be a great way to take a child, but also turn into a bright and unforgettable part of the cultural program for any children's holiday. At the same time, each child will be able to separately voice any character and compose his story, feeling himself both an actor and a director.
Easy and fun
How to make toys from socks do it yourself? This process can be elementary. So, you are able to make a bunny in just half an hour.Cut the sock in the middle of the toe about five to seven centimeters. Turn it inside out and sew the resulting ears. Then return to the front side and tamp the workpiece with filler. Then sew the gum - and the little animal is actually ready.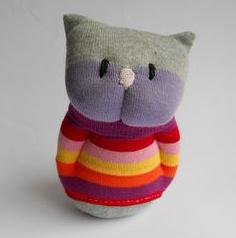 All you have to do is design your sock toy. Master class advises a variety of ways to design. And since the animal's face falls just on the heel of the sock, you don't even have to single it out. Simply embroider the eyes, mouth and nose, or attach to the places where they are located, buttons, cardboard clippings, beads or other accessories that may be suitable for this purpose. Attach a ball-shaped tail from behind - that's all, bunny is ready.
More elementary work on the snake. You can make a whole family of these toys. First, take a long striped sock, make a small incision along its seam on its tip. Put a thick red fabric rolled into an oval in the hole. It will be an open mouth.
Then fill the body with padding polyester or cotton and sew the elastic. After that, make an eye out of fabric or felt twisted into a ball and attach them.That's it, the snake is ready!
More difficult task
Having mastered the basics of how to sew a toy from a sock, you can proceed to more complex tasks. Try to make a monkey, an owl, a bear, a kitten or even a baby doll. With this task, the mother will have to cope on their own or with the help of a younger daughter who already knows how to sew.
For this craft is best suited large male sock. It is desirable that it was striped or just some bright color. Such a baby doll will look very positive and funny.
Cut the elastic from the selected garment and set it aside for later, to create a hat. Fill the body with filler, but do not overdo it - it should not be too dense. Pull and sew the cut edge.
In the area of ​​the toe of the sock, you will make legs, a belly will be located on its foot, and the heel will serve as a face. In the place where you plan to place your neck, lightly walk around with a needle, pulling the fabric. And then wind it over the seam, pulling it harder. So you will form a head.
Now proceed to the limbs. They are made according to the same scheme: walk along the seam, similar to the machine one, to the joints of the future body pens and legs between each other.
The main work on the creation of the baby doll is finished.It remains only to arrange his face with the help of accessories, to invent and make clothes, and then decorate it.
Related news
Stuffed toys from socks do it yourself: master class image, picture, imagery