Vegetarian Okroshka - the best recipes, cooking features and reviews
Nothing so much quenches hunger and thirst in the summer heat as the traditional Russian dish okroshka. The famous cook on a vegetable basis with the addition of meat, sausage or seafood. But this does not mean that vegetarians will not be able to try okroshka. The traditional summer dish they can cook exclusively from vegetables, and absolutely any. As a dressing, you can use kvass, kefir, whey or water. The best recipes of this dish are presented in our article.
Recipe for vegetarian okroshka on kvass
In the preparation of this dish are not used neither eggs, nor meat, nor sausage. Okroshka turns vegan. This recipe is suitable for those people who do not use animal products.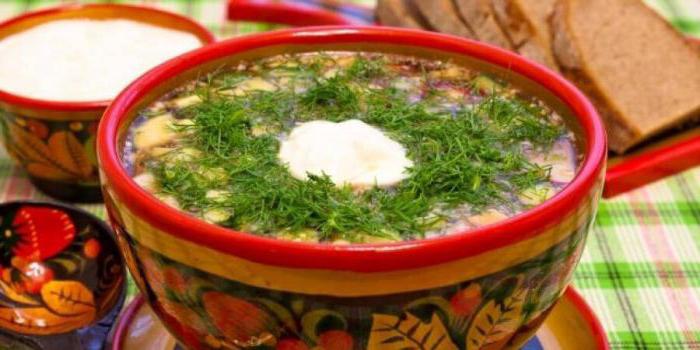 The recipe for vegetarian okroshka on kvass with a step-by-step description is as follows:
Potatoes (3 pcs.) And carrots are boiled in their skins until cooked.
Parsley, dill and leek are chopped finely enough.
Cooled potatoes with carrots are peeled and cut into small cubes.
Fresh cucumbers (2 pcs.) Are ground in the same way.
All ingredients are mixed in a small saucepan. Sour cream (plain or vegan), salt and pepper are added to taste.
The last added brew.
When cooking okroshka you can use other ingredients. Delicious cold soup will turn out when adding Adygei cheese, radish or tomatoes. Mineral water or kefir will be suitable as a dressing.
Vaishnava vegetarian okroshka on kefir
In Indian cuisine, and Vaishnavism is just one of the areas of Hinduism, special attention is paid to spices. And in the recipe for vegetarian okroshka on kefir they are used in large quantities.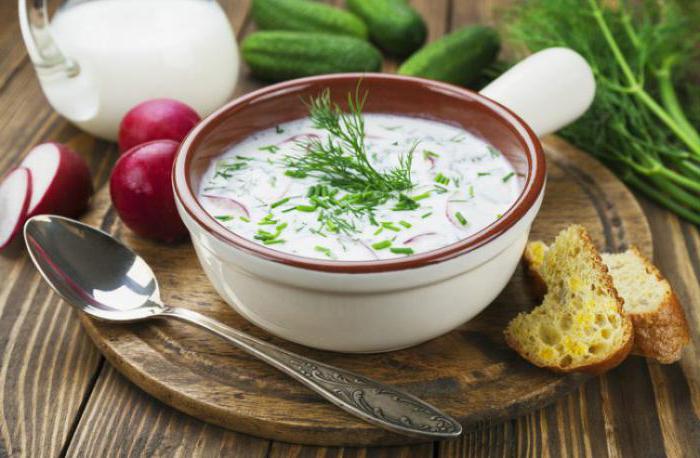 Step by step Indian cold soup is prepared in the following sequence:
Potatoes (2 tubers) boiled in uniform.
At this time, Adyghe cheese (200 g), radish (4 pcs.), 2 cucumbers, parsley and dill are finely chopped.
Cooled potatoes are cut into cubes.
All ingredients are mixed together. Sugar, salt, lemon juice, black pepper, cumin and a pinch of asafoetida are added to taste.
Okroshka is laid out on the plates and filled with kefir.
You can combine the vegetable base of the dish with the dressing right in the pan, and then pour the finished soup right on the plates.
Okroshka for vegetarians on whey
When cooking this dish is not used eggs. But thanks to a combination of paneer (homemade Indian cheese) and black salt, this does not affect the overall taste.
The recipe for vegetarian okroshka assumes the use of different vegetables, herbs and spices in any quantity. Traditionally, when cooking dishes are used potatoes, fresh cucumber and radish. It is also recommended to add more greens. Dill, and spinach, and sorrel will do. As spices, it is recommended to take a pinch of asafoetida, a little black salt, mustard. Paneer and sour cream are surely added to these ingredients.
Okroshka is filled with whey. After that, the cold soup is well mixed and sent to the refrigerator for 30 minutes. Chilled dish is served at the table.
Vegetarian Okroshka recipe on water
This option of cooking summer soup can also be called the most economical. As a dressing for okroshka ordinary boiled water is used. Prepare it in advance and cool well.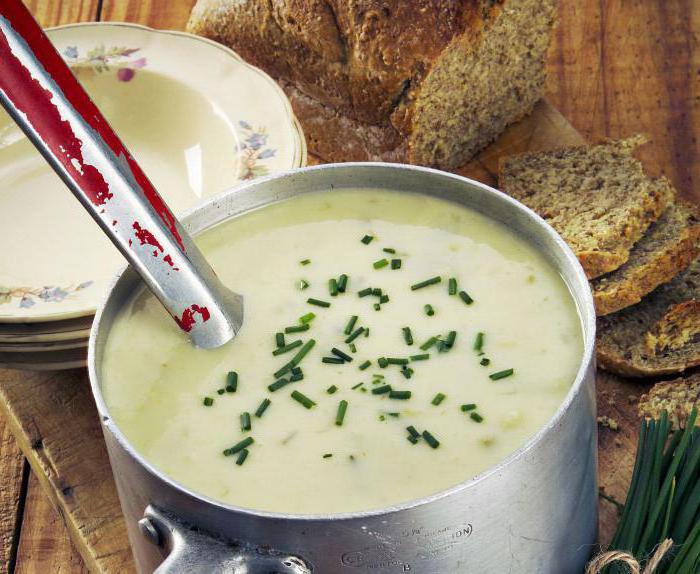 Step-by-step recipe for vegetarian okroshka is as follows:
Boiled potatoes (5 pcs.) And carrots (3 pcs.) Are peeled and cut into small cubes.
In a similar way, 2 fresh cucumbers and tomatoes are ground.
Adygei cheese is finely chopped (150 g).
In the pan, the ingredients prepared above are mixed with dill, turmeric (½ tsp.), Mustard, asafoetida, black salt, pepper and lemon juice.
Sour cream (200 g) is added to okroshka, after which cold boiled water (1.5 l) is poured.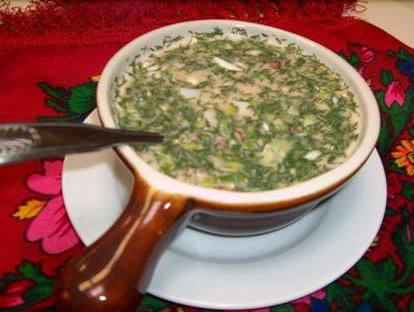 Optionally, you can use kefir, whey or kvass. Sour cream for this dish will suit a special vegetarian or traditional. The quantity and quality of ingredients can be adjusted to your liking.
Delicious Okroshka with cauliflower and broccoli
Potatoes are traditionally added to this famous Russian dish as one of the ingredients. ButVegetarian okroshka according to the following recipe is prepared without this product. This cold soup can be called really healthy, because it uses broccoli and cauliflower, radishes, mushrooms, cucumbers and fresh green peas. As a gas station, you can choose kvass, kefir or mineral water.
Cooking begins with the preparation of cabbage. Broccoli and cauliflower inflorescences are dipped in boiling salted water for 10 minutes, then cooled and cut into large pieces. Radish (100 g) and 3 cucumbers are ground in an arbitrary way. Raw champignons are cut into plates. In one bowl, the above-cut ingredients are mixed, as well as leeks, dill and fresh peas. After that, okroshka is filled with pouring, salt, pepper and mustard.
Fast Okroshka with mushrooms
In Russia, a cold soup with a turnip and salted mushrooms was cooked in the fast. A similar vegetarian okroshka can be made today according to the following recipe:
Potatoes (2 pieces) and carrots are boiled, cooled and cut into small cubes.
Turnip cut in a similar way.
Fresh cucumber is ground into strips.
Salted mushrooms (150 g), a small onion, green onions and dill are cut.
All ingredients are mixed, dressed with cucumber pickle (150 ml), mustard (2 tsp), black pepper (½ tsp).
Last of all, the peeled and peeled apple is added to the okroshka. After this, the dish is poured with cold kvass (1.2 l).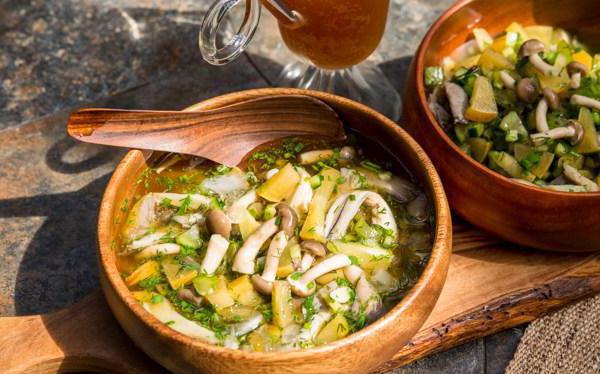 If it is not possible to buy turnips for okroshka, more potatoes can be put in the soup to replace this ingredient.
How to cook okroshka with walnuts
To get all the necessary vitamins and minerals from ordinary foods, vegetarians often add nuts to their dishes: walnuts, cashews, and any other. And okroshka is no exception. In this dish, you can enter the ingredients to your liking, add more herbs, vegetables, etc.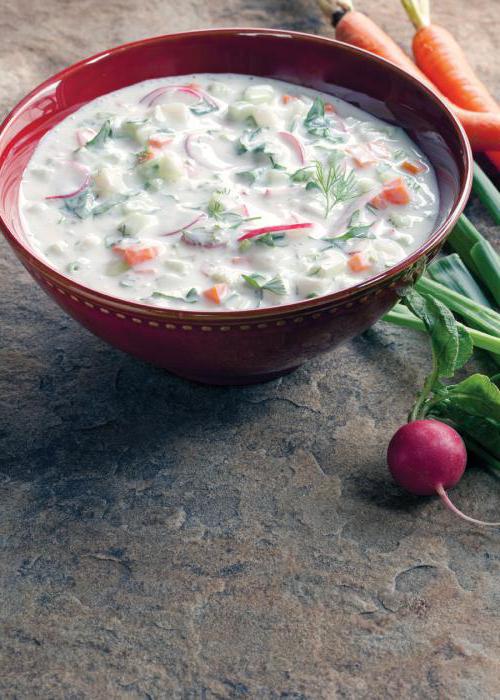 In general, vegetarian okroshka with walnuts is prepared as follows:
The first step is to prepare a dressing for the dish. To do this, 2 cups of natural (homemade) yogurt must be thoroughly whipped with a mixer so that it becomes more uniform and less thick. Then a slice of finely chopped garlic is added to this mass.The dressing is thoroughly mixed and sent to the refrigerator for 1 hour.

At this time, cucumber is cut, several radishes, any greens to taste, walnuts are crushed (½ tbsp.).

The crushed ingredients are stored in a deep bowl and filled with yogurt. Salt and pepper are added to taste.
For those who prefer a less dense dressing for okroshka, it is recommended to dilute the yogurt with mineral water.
Okroshka recipe for vegetarians with tomatoes and wild garlic
Despite the complete absence of animal products in the composition, such a dish can certainly be called nourishing and useful. The source of protein in it is green peas, which is added to cold soup just before serving.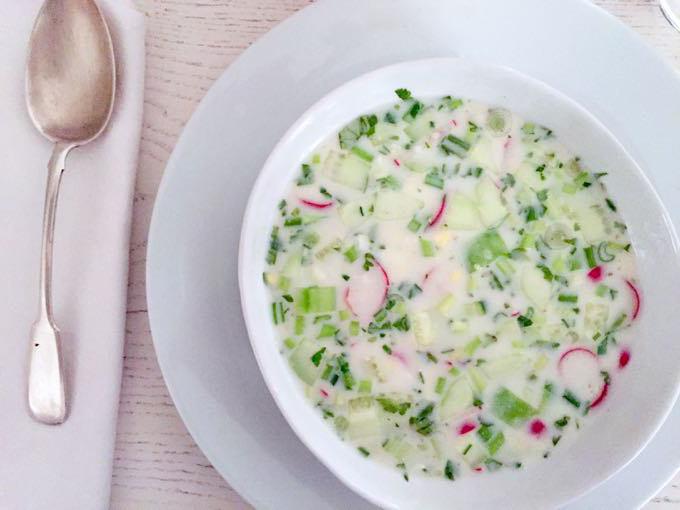 Vegetarian okroshka with tomatoes and wild garlic is prepared in the following sequence:
Boiled potatoes are peeled and diced.
Tomato and cucumber are minced in a similar way.
Next to the bowl, add 100 g of finely chopped wild garlic, radish, dill and parsley, green onions to the vegetables.
The prepared ingredients are dressed with mayonnaise (sour cream) and mixed.
The finished salad is filled with kvass, after which green peas are added to the dish. Now the soup can be poured in portions.
Cooking secrets
To make okroshka tasty and well refreshed in the heat, the following secrets of cooking should be taken into account when preparing a dish:
All ingredients must be well chilled.
Salt, pepper, mustard and spicy spices should be added in moderate quantities and at the same time with the pouring, so as not to spoil the taste of the dish.
The quantity and quality of ingredients can be changed to your liking.
Be sure to add okroshka fresh cucumber, dill, parsley, onion and other herbs. From this it will only taste and healthier.
If you want to increase the nutritional value of the dish, add legumes (beans, green peas) when cooking it.
Vegetarian okroshka can really be tasty. Now is the time to try and appreciate this dish.
Related news
Vegetarian Okroshka - the best recipes, cooking features and reviews image, picture, imagery