What is a corner kitchen
Why exactly angular kitchen
This ergonomic kitchen layout is extremely comfortable for small rooms. But in recent years, even the owners of very spacious rooms prefer a corner kitchen. What are the advantages of such a plan?
Undeniable benefits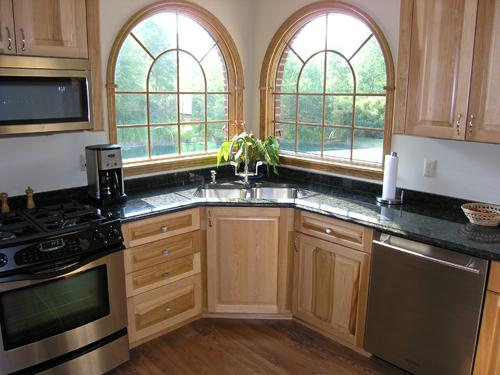 Corner kitchens have a number of significant advantages. They are compact, which is very important for small apartments. Kitchens with such a plan form the most optimal triangle for the hostess - sink - hob - fridge. G-or L-shape furniture set divides the kitchen into two zones - for cooking and storing food and for its use. The corner is completely used, turning into the place, convenient for storage. If desired, in the corner you can arrange the hob or sink. Corner set is rich in cabinets, which allows you to store everything you need, and maintain perfect order.
Small kitchens - how to choose furniture
The eternal problem of small apartments is its setting. Corner kitchens are available in the arsenal of almost all major furniture manufacturers.But Russian mills offer a greater choice of such kits than their foreign counterparts. Quite often, to make such a kitchen to order is much preferable to buying a ready-made sample. In recent years, more and more housewives prefer lower modules on high open legs. Agree that cleaning in this case is much easier. A small kitchen suggests the presence of cabinets with folding or folding doors. They significantly save space and are very convenient to use. Roof rails will help free the entire work surface from small kitchen utensils.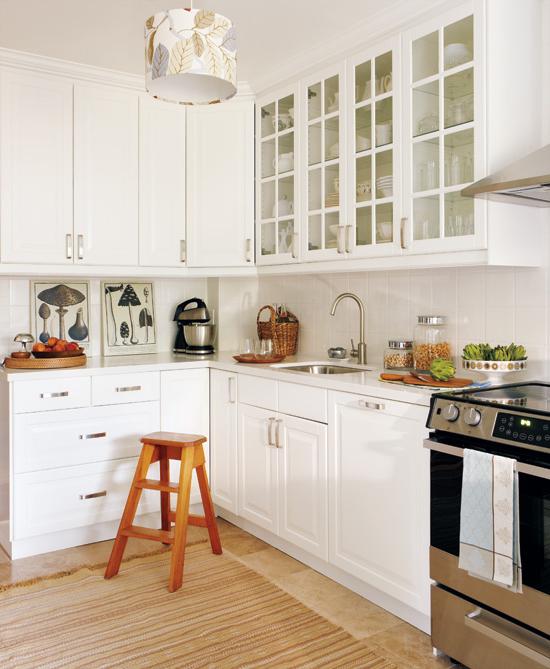 Kitchens with a bar counter
Small-sized corner kitchens are well complemented by a small bar counter. Usually it is made perpendicular to one wing of the kitchen set, adjacent to the work surface. In a very small kitchen, this bar counter can be an alternative to the dining table.
Facade materials
Classic corner kitchens are usually made from high-quality MDF or solid wood. Economy headsets use laminated chipboard. The decoration is most often used glass parts, inserts stained glass, various inlays.The facades of corner kitchens are often artificially aged - patinated.
Appliances
In a classic corner kitchen, there is almost always a built-in fridge that "hides" behind the high cupboard door. Conveniently, the oven and microwave are built into column cabinets that are located at the waist or chest level. The child cannot reach these dangerous devices, and the hostess will not have to bend each time to check whether the dish is ready.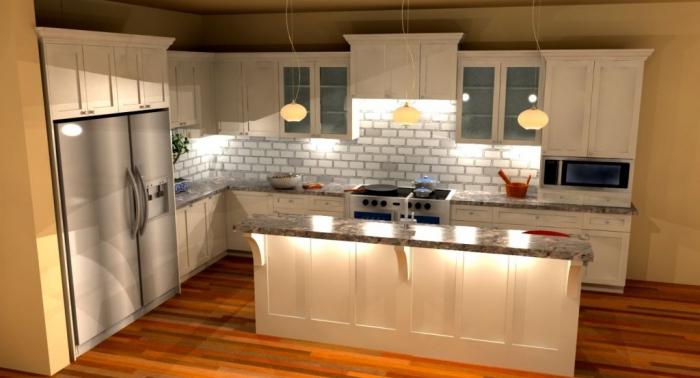 Corner kitchen do it yourself
Today we introduced you to some of the features of the corner kitchen. This is certainly a convenient, practical and very attractive way to equip a small-sized kitchen. Perhaps someone had a desire to make such a set himself. If you have skills in the manufacture of furniture, then made a corner kitchen with your own hands will bring you much more joy than that acquired in the store.
Related news
What is a corner kitchen image, picture, imagery